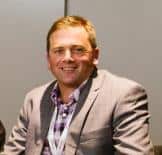 Manawatu farmer, Tony Parlato has spent nearly 20 years growing potatoes for the fresh and process markets and is passionate about the industry. The Parlato farm grows approximately 150 hectares of potatoes, cultivates a range of other vegetables and runs livestock. As well as a solid understanding of industry from a grower's perspective, Tony brings a good common sense approach to his new role and is keen to be involved in developing and promoting the industry.
membership type: Grower Member
company: Parlato Farming
location: Moutua, Shannon
e-mail: Please use our contact form.
phone: 027 446 2346
Service:
Board – Elected 2014
Committee appointments – Audit & Risk Committee