The voice of – and for – New Zealand's potato industry
Potatoes NZ Inc.
Potatoes NZ is a pan-industry organisation with members coming from within the wider potato industry.
Grower members provide funding via a levy paid by all potato growers (a small percentage on value of potatoes at first point-of-sale), collected under the Commodity Levies Act. That levy is charged according to how much a grower produces.
Trade members pay an annual fee along with a percentage based on the value of tonnage purchased or sold during the year.  Trade members can include processors, traders, exporters, retailers and other on-sellers of potatoes.
The third category of membership is Associate Member which encompass suppliers/organisations in the wider industry such as research providers, agrichemical companies and other industry consultants. Their annual fees also contribute to the ongoing potato industry activities.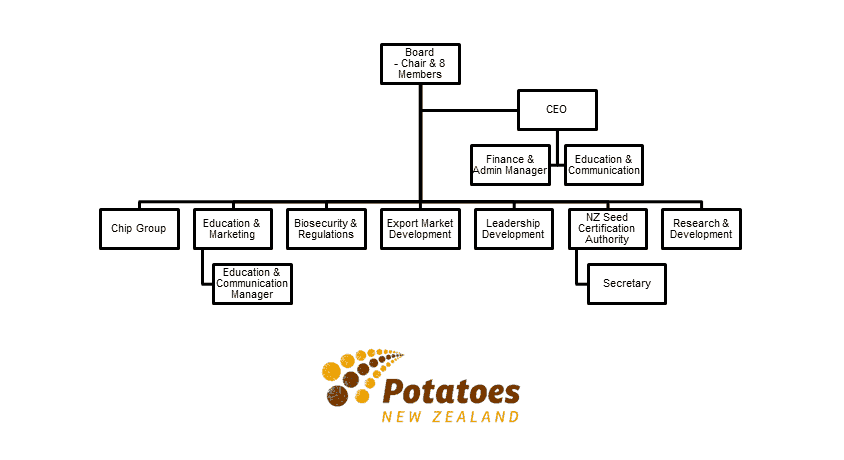 What we do and how we do it
Industry sub-committees are responsible for driving activity within key areas of Potatoes NZ Inc.:
Sub-Committee membership
The sub-committees are made up of PNZ Inc. Board representatives, industry representatives (grower and trade members) and expert advisors as appointed by the board.
Sub-Committee Responsibilities/Roles:
Providing potato industry member input, advice, feedback and guidance to the PNZ Inc. Board, PNZ Inc. staff and/or external consultants.
Acting as an industry forum to support the PNZ Inc. Board and PNZ Inc. staff in their operational duties.
Working within the defined boundaries set by the PNZ Inc. Strategy.
Responding to specific requests for information from the PNZ Inc. Board and/or staff.
Formally recording the sub-committee meetings and making the papers and/or minutes available to the PNZ Inc. Board for review.