This group is responsible for the following:
The CHIP Group
As informed by the 2013 Consumer Research Project:
NZ Table Potato Quality Initiative
Complimentary foods co-marketing initiatives
Co-ordination of key media messages
For Potatoes NZ Inc., the CHIP Group is a key element of the Education & Marketing Group's strategic implications. It is important that the potato industry ensures the future consumption of French fries in New Zealand, along with participating in a community programme to support the nutritional messages of the potato industry. The CHIP Group also develops ongoing relationships with government agencies and other like-minded industry organisations on health and nutrition issues.
The Chip Group is made up of a range of players in the food service industry, such as potato growers, chip manufacturers and oil suppliers, as well as health and government members such as Heart Foundation and The Ministry of Health.
For further information click here.

Potatoes NZ Inc. proudly sponsors, provides or participates in a variety of educational programmes nationwide.  Education of the general public and in particular future generations is key to ensuring the ongoing consumption of potatoes in New Zealand.
Key Media
Messages
Jump to our media coverage page to see a list of recent coverage.
Potatoes NZ Inc. have established four simple statements referred to as the Four Pillars.  Each pillar can be supported by a range of proof-points.  In addition we have proposed a marketing statement to support each key message which can be used in the development of any marketing collateral.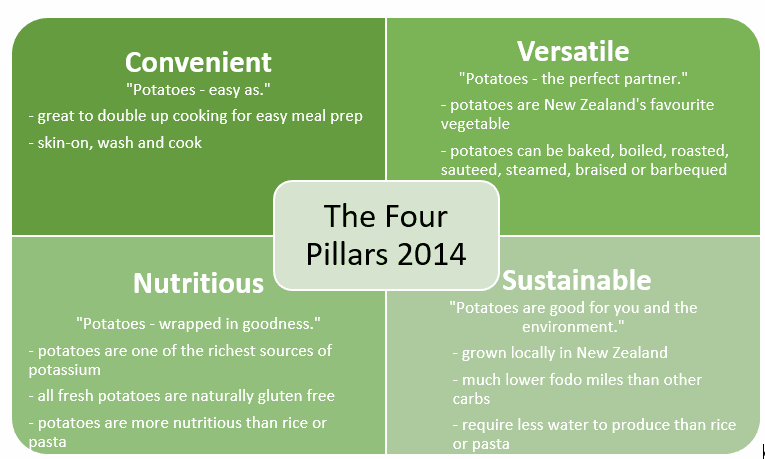 In 2013 Potatoes NZ Inc. re-developed its consumer website and in 2014 activated its social media activity through its
Facebook
presence.  In 2017 the consumer and industry websites were merged.
Potatoes NZ Inc. work closely with wider primary industry marketing groups whether on individual promotions or within joint education programmes. Industry partners include:
Heart Foundation
. Potatoes NZ Inc. shared a stand with the Heart Foundation for 2 hours at Foodshow Auckland in 2014, and in 2015 maintained 2 x 2 hour slots at all 4 Foodshow locations. Both are members of CHIP Group.
Ministry of Health
– also members of CHIP Group. Potatoes NZ Inc. also provide resources directly to public health professionals such as Dietitians, Nutritionists, GPs and Public Health Organisations, as well as participating in relevant conferences.