There are many great potato dishes in the world. Most potato-eating countries would have more than one favourite, probably. Sometimes they're incredible side dishes, such as pommes dauphinoise, patatas bravas and various kinds of mashed and chipped things. And sometimes potatoes are elevated to the realm of the main event. Such is the case with a French dish I made recently, tartiflette.
I'd not heard of this dish before until I was introduced to it by a French friend recently. It's a dish from the Savoie region of France, and typically eaten in an alpine chalet setting with cold and snowy conditions outside and warm, fireplace-infused conditions inside. So the fact that we ate this on the coldest day of the year in Auckland so far was a happy coincidence, and highly appropriate.
Tartiflette is a celebration not only of the potato, but of one very particular cheese, Reblochon. This is a very special soft, nutty-flavoured cheese with a beautiful orange washed rind. It's made from unpasteurised milk and has its own AOC designation, meaning only cheese from the specific region and made in a specific way can be labelled Reblochon.
A round of Reblochon is a thing of beauty to look at and to eat. Pair it with potatoes, cream, wine and bacon and you get something extremely special (or as my friend put it, "an orgasm in your mouth". You have to imagine that in a French accent).
Making a tartiflette i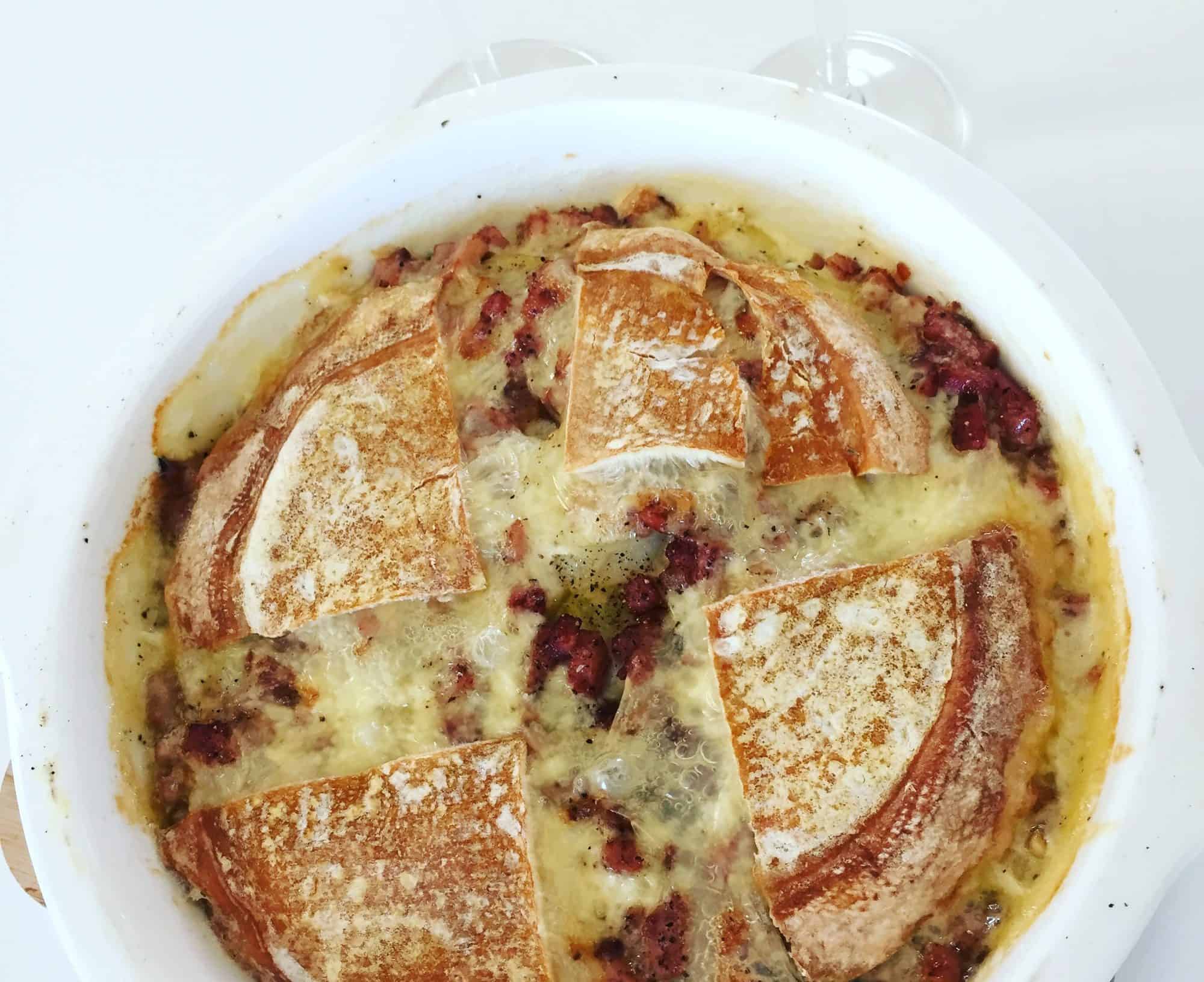 s pretty straightforward; it is akin to a gratin in many ways. Potatoes (I chose waxy ones for this; opinion seems divided on which are best and this is one case in which probably either type would work) are cooked until tender, drained, cooled and sliced thinly. Shallot, garlic and bacon lardons are sautéed, the pan is deglazed with white wine, and this is scattered over the layered potatoes in a baking dish. Cream is poured over the lot. You're getting the picture; we have a lot of deliciousness going on before we even get to the cheese.
The Reblochon is literally the crowning glory of this dish. In our case we split half the round of cheese vertically, and the two halves were placed, rind upwards, on top of the potato mixture. The whole thing is then baked in the oven until bubbling, golden and gorgeous.
My instinct was to have a salad with this; some sort of bitter leaves with a sharp, lemony dressing. My other instinct was that we could not possibly eat the whole dish between the two of us. I was wrong on both counts.
A salad would have been fine, but we did not need it. This dish deserves to be eaten in all its calorific glory just as it is. A little black pepper and a glass of wine is all that's required. As for how much of it we ate… as a public service announcement I need to tell you that I found it surprisingly easy to eat more cheese and potatoes than I ever thought I would in one sitting. So if you're going to make it, you have been warned.
Tartiflette
Serves 2
500g potatoes, peeled
125g bacon lardons, or small bacon pieces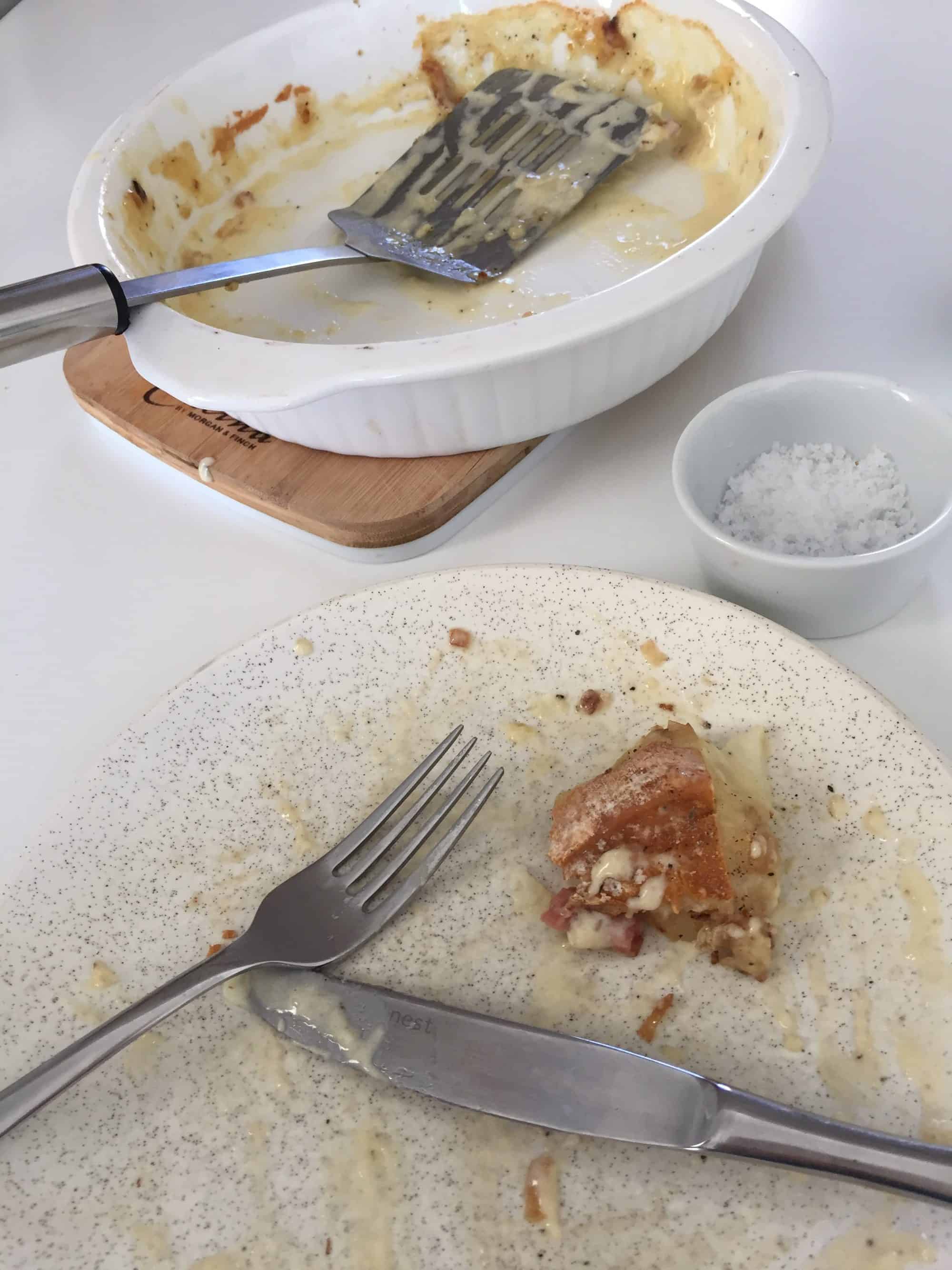 1 shallot, finely diced
1 small clove garlic
¼ cup white wine
100ml cream
½ round of Reblochon cheese, split in half vertically (note: this one was found at Maison Vauron)
black pepper to taste
Preheat the oven to 200C. Boil the potatoes in salted water for about 10 minutes, or until tender. Drain and cool. When cool
enough to handl
e, slice potatoes thinly.
While potatoes are cooking, sautee shallot, garlic and bacon in a little olive oil over a medium-high heat, until the shallots are soft and the baco
n is browned and crispy. Deglaze the pan with wine and remove from heat.
Layer potato slices in a baking dish. Scatter bacon mixture over the top, then pour over cream.
Place cheese halves, rind upwards, on top of potatoes. Place dish in the oven and bake until cheese is golden, browned and bubbling.
Serve garnished with black pepper. Don't think about the carbs, fat or calories. Enjoy, and have a walk afterwards.
Niki Bezzant is a renowned writer, editor, speaker, eater and Editor-at-Large for Healthy Food Guide. This is the third of a series of monthly blogs Niki will write for Potatoes New Zealand. You can follow Niki at www.nikibezzant.com