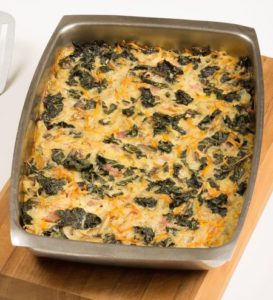 Try this delicious easy frittata – this recipe is gluten free.
Serves 8-10
4 eggs
3 Tbsp vegetable oil
1 cup milk
pinch salt
freshly ground black pepper, to taste
4 large boiling or new potatoes, washed, peeled and grated
2 carrots, peeled and grated
2-3 silverbeet leaves, washed and sliced
1 onion, peeled and finely chopped
1 cup chopped lean bacon
Preheat oven to 180°C.
Beat eggs, oil, milk, salt and pepper together.
Add potatoes, carrots, silverbeet, onion and bacon and mix well. Place into a large lightly oiled baking dish.
Bake in preheated oven for about an hour or until vegetables are cooked and top is golden.
Nutrition Information Panel
Per Serving [1 Serves]
Energy
793 kJ
Protein
13g
Total fat
– saturated fat
11g
2.8g
Carbohydrates
– sugars
9.4g
4.3g
Fibre
2g
Gluten
0g
Sodium
513g
Gluten Free