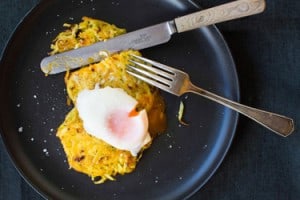 With spring just around the corner,now is a great time to make the most of the cooler days and whip up some warm potato d.  In a recent article in Bite Magazine, Nadia Lim spoke of the great nutritional benefits of potatoes, "Potatoes are full of potassium, vitamin C and fibre, and are a natural unprocessed carbohydrate".  And we agree, potatoes are wrapped in goodness!
Nadia's recipe below uses agria potatoes.  Agria potatoes are flourly and are perfect for mashing, wedges, roasting, chips and baking.
Leek and Potato Rosti
Makes 4 rosti
1 Tbsp butter
1 cup sliced finely leek (white part only)
450g agria potatoes, peeled
2 tsp chopped thyme leaves
1 egg
1 Tbsp olive oil
1 tsp salt
½ tsp freshly ground black pepper
Heat butter in a medium frying pan over medium heat and cook the leeks until just soft, but not coloured, 3-4 minutes. While the leeks are cooking, grate the potatoes and squeeze out any excess moisture by placing in a clean tea towel and wringing out.
Combine cooked leek, grated potatoes, thyme, egg, olive oil, salt and pepper.
Heat a drizzle of olive oil in a medium frying pan over medium heat (you can use the pan the leeks were cooked in, just wipe it clean with paper towels first). Take ½ cup of rosti mixture and shape into a patty about 1-2 cm thick. Repeat with remaining mixture. Place patties into the hot pan and cook for 3-4 minutes on each side until golden brown. Try to avoid moving the rosti for the first minute or two to let a nice crust form. This is yummy served with poached eggs and tomato relish for brunch.