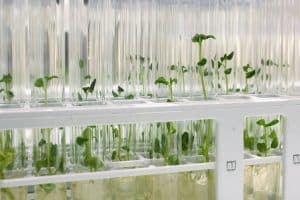 Potatoes New Zealand's Research, Development and Extension (R,D & E) activities, covers both on-farm sustainability and productivity as well as manufacturing innovations. Current activities focus on monitoring and managing environmental impacts of potato production to provide a pathway to increase the area of production, maintain industry profitability and deliver improvements across the value chain.
There are three parts to Potatoes New Zealand's Research, Development and Extension programme.
Part 1 Productivity
On farm Productivity RD &E are activities to improve the productivity of potato growing while maintaining or reducing environmental impacts. Improving productivity means increasing production relative to inputs. It does not mean just increasing yield, as this can be achieved at a higher marginal cost and increased emissions, without adding value.
Process Innovation RD &E is concerned with the NZ industry beyond the farm gate. The performance of this sector is vital as potatoes grown for processing represent 65% of the total crop. Processed potato products are exposed to competition from international marketers. Productivity improvement across the value chain is necessary to increase competitiveness, and thereby both protect the domestic manufacturing base and position for growth in exports. Productivity in manufacturing requires investment in R&D to minimise waste, utilise waste in new products, and develop more efficient processing.
Part 2 Pest and Disease
Research focuses on the pests and disease that are having the greatest financial impact on the sector. It ensures growers have the tools necessary to manage existing pests and diseases and where necessary react to the incursion of new diseases and seek to minimise the impacts of these on the industry.
Part 3 Environment
Ensure the industry has the capability to measure, monitor, manage and mitigate environmental emissions in order to maintain access to key potato markets and allow the development of a catchment-based reporting systems to facilitate resource consents to allow the continued expansion and the access to leased ground.
R&D Technical Panel
The Potatoes New Zealand Research & Development Technical Panel is made up of industry growers, processors, agronomists, and technical experts that advises on the R&D Strategy and activities. The Panel meets regularly during the year to review the current PNZ Strategy, observe field trials, discuss results and comment on planned activities. The current panel members are:
Chris Claridge, Potatoes New Zealand
Roger Blyth
Graham Bunckenburg
Scott Clelland
Iain Kirkwood
Ross McCallum
Tim Pike (Chairman)
Shane Smith
Daniel Sutton
Nick Taylor
Debbie Johnstone
Bryan Hart