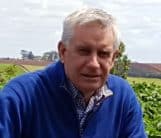 John Jackson has been involved in the potato industry for more than 35 years and is currently Agriculture Director, McCain Foods Australia and New Zealand, with experience in crop procurement, strategic planning, research and development, agronomy and company operations.
John began his career over 40 years ago for J Wattie Canneries in Timaru with their vegetable processing operation. John was involved from the inception of McCain Foods, the country's first manufacturing operation which now has two processing plants in New Zealand. These process in excess of 200,000 tonnes of potatoes and vegetables annually with a permanent workforce of more than 300 employees nationwide.
John is passionate about New Zealand potatoes domestic and the international brand, and along with the Potatoes New Zealand Board will work to generate more overseas opportunities for the wider New Zealand potato community.
membership type: Trade Member
company: McCain Foods Australia & New Zealand
location: Timaru
e-mail: please email John Jackson through our contact form
phone: 027 215 2593
Service:
Board – Interim Board 2012-13, Board 2013, re-elected Board 2014
Sub Committees – Audit & Risk committee (Chair)