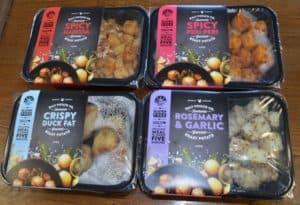 If there's one thing guaranteed to get some of the foodie purists het up on social media, it's 'processed' or pre-packaged versions of primary produce.
I've seen so much huffing and harrumphing, for example, over pre-chopped vegetables ready to roast in the oven. Or pre-chopped stir-fry or vege soup mixes.
Why? Because, the offended ones say, 'people should be able to do that themselves'. The implication (or sometimes the frank statement) is that 'people' are simply lazy and/or stupid if they don't do this basic kitchen prep for themselves.
Imagine what the social media judges would make of the range of products from Daly Potatoes in Tasmania, designed to make potatoes more convenient. The range includes several varieties of fresh potato salad, as well as 'ready to cook' chopped and seasoned roast potatoes in several flavours, ready to pop into the oven or microwave.
In a story at freshplaza.com, owner Susie Daly said the products are a response to the declining market for fresh potatoes as consumer demand changes. "People began to overlook the potato and forget how versatile it really it is," Susie is quoted as saying. "Schools no longer teach kids how to cook so many people don't actually know what to do with them; also these days people are busy they don't want to stand and peel potatoes then wait for them to cook, they also want a bit of added flair."
The result: spicy harissa; duck fat or rosemary and garlic flavoured potatoes ready for roasting, or how about a mild curry or bacon and Dijon potato salad, ready to eat? And if that wasn't enough, Susie and family also make vodka on the side from their potatoes. Their products, perhaps not surprisingly, are proving popular with Aussie consumers.
Personally, I think this is very clever and innovative product development. Who's to say potato growers can't do more than just develop more varieties? This is adding value, and getting people eating more spuds at the same time.
I have no problem with so-called 'convenience' foods, especially if they help people eat more vegetables. Yes, some people might be lazy or lack food knowledge. But so what? Why shouldn't they take advantage of conveniently prepared products that might help them develop kitchen confidence? Lots of people are busy; time to cook is difficult to find sometimes. And you know what: some people just don't like cooking.
That can be a shock to a foodie, who can't imagine anyone not wanting to hand-craft their own sourdough. But we're all different. As Nigella Lawson pointed out in her recent talk to a group of Auckland fans: "You're not a morally superior being just because you cook".
That's a really good reminder, and, perhaps, an inspiration for our own potato growers? There's got to be more clever ideas like Susie Daly's.