"Potatoes have a key role in many of the food trends in 2017."
The latest hybrid consumption trend is the clumsily-named 'Grocerant' – a mix of grocer and restaurant. These consist of destination restaurants (rather than a supermarket café) in a retail environment where customers come and have a meal before or after they shop or in some cases while someone from the grocerant is shopping for them.
Potatoes have a key role in many of the food trends of 2017 with influential catering magazine Flavor & The Menu placing small potatoes at number three in its influential top ten list of food trends. The list was dominated by fruits and vegetables, with salads, chickpeas and non-alcoholic fruit and vegetable drinks also featuring strongly.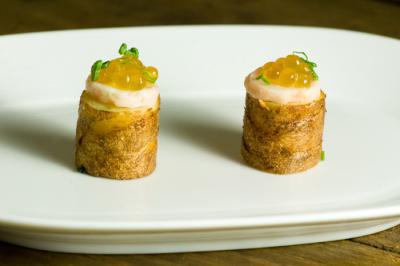 Potatoes USA has been working with chefs to put the potato at the centre of the plate and Shipley gave examples including twice baked potatoes with smoked char roe and scallions created by The Restaurant at Meadowood in St Helena, California and Ember Roasted Potatoes (pictured left). Another featured dish devised by Imperial PDX in Portland Oregon which includes Yukon Gold potatoes charred in a wood-fired grill, smashed and fried in brown butter with dill, sea-salt and perisllade. One restaurant is also selling roasted potato sandwiches with the sliced potato accompanied by cucumber, tomato, carrots and avocado.
These types of dishes fit into the clean eating trend that has seen US and European consumers reduce meat and read consumption in favour of more vegetables.
Potatoes have always struggled to be included in official lists of recommended foods, but the industry once again made the nutritional case for the food. But that is changing and Potatoes USA has had success with its 'Potatoes Power Performance' message which has been approved by the S Department of Agriculture. It has three main elements:
Potatoes provide the carbohydrate, potassium and energy you need to perform your best.
Whether you lead an active lifestyle or compete with elite athletes, there's a potato option to fuel your body and brain throughout the day.
To perform at your best, put potatoes on your plate.
Reproduced with permission from World Potato Markets issue 299