June 2022 – New Zealand Frozen Potato Exports and Imports
NZ Statistics – All Frozen Potato Products
Strong export growth of 29% latest quarter and 20% annual growth by volume.  Value growth behind volume growth at 20% on quarter and 17% annual indicates NZ frozen potato exports more competitive than year ago.
Export growth to Australia 5% annual and 13% on the quarter.  Australia remains by far NZ's largest export market with 32,048 tonnes exported last 12 months from a total of 60,085 tonnes exported.  Australia is driving the value decline mentioned with value growth of 1% annual, 0% on the quarter in contrast to its volume growth.
Strong export growth in Asian markets with Malaysia a real highlight with growth at 827% on quarter.  Thailand and the Philippines also standouts with growth of 84% and 71% respectively.
Papua New Guinea while a small export market had great growth on the quarter at 282%.  Hopefully this will continue in the foreseeable future.
Imports have reversed the trend from the last report with strong growth of 34% on the quarter which has also translated into annual growth of 15% by volume.  Growth primarily driven by Australia.
However, the Netherlands also doubled their imports versus year ago latest quarter.  Some of this growth must be driven by timing of shipments as from European export trade data we have not seen a quarter of exports to NZ of this volume.  Something to watch though.  Imports from Belgium in decline counters some of this.


World Potato Markets Report (WPMR) & World Trade Data
Encouragingly WPMR are reporting increased export prices in frozen potato exported from Europe to offset the significant increase in input costs.
We also see the same trends in export prices from Belgium and the Netherlands for the export trade data PNZ purchase as per graph below for exports to all countries. Latest month export price breaks through USD $900 per tonne and note that sales volume is also strong returning to pre-pandemic levels if not slightly greater.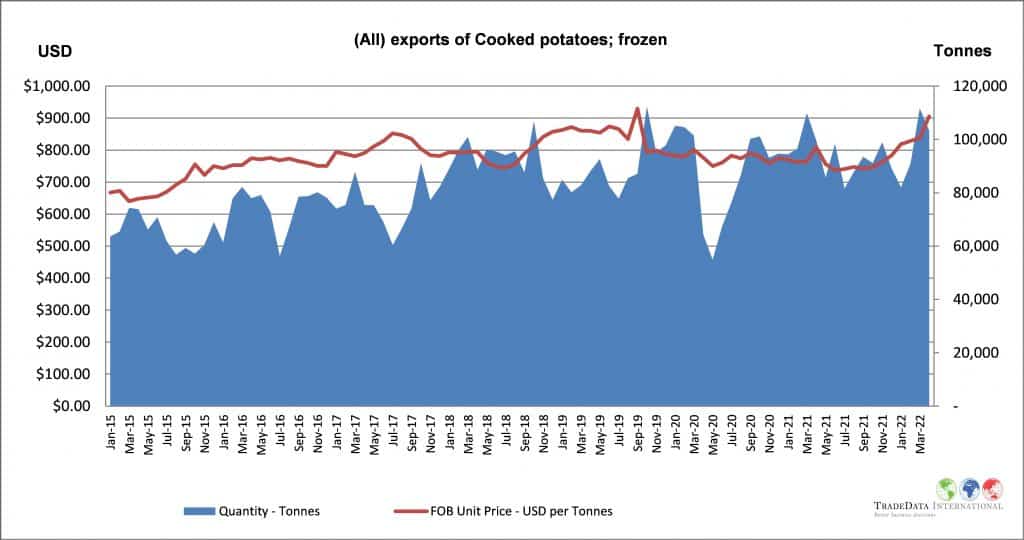 In terms of exports from the Netherlands and Belgium to New Zealand we are yet to see the same increase in export price.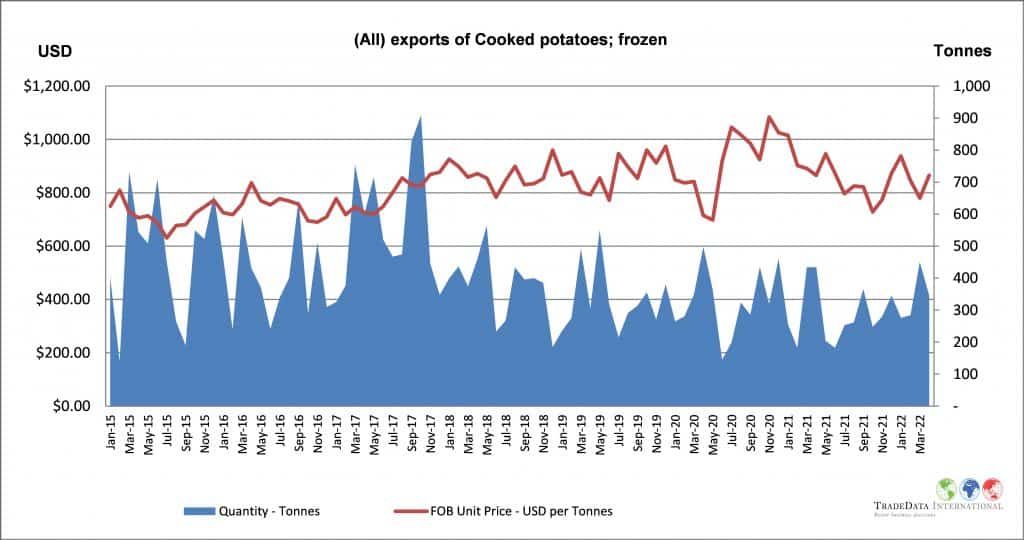 Sales to Australia from the Netherlands and Belgium are also very strong latest quarter +33% on year ago at an export price premium latest month.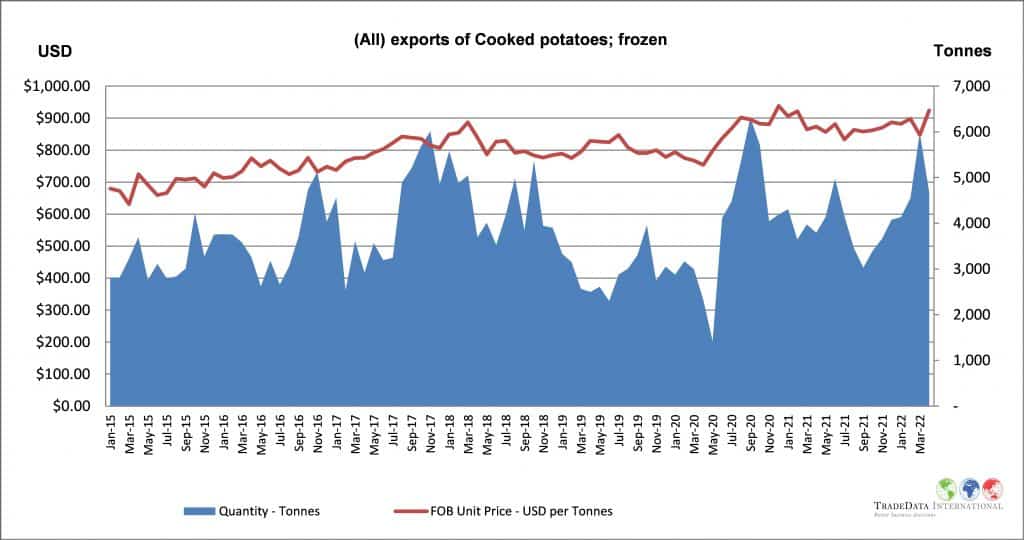 Appendix: Annual NZ Frozen Potato Imports and Exports
Imports dominated by Australia but with the emergence of Belgium, USA and the Netherlands taking market share since 2012/13.
Exports again dominated by Australia and have recently suffered in the Covid-era with good growth prior from emerging markets
Note that China exports had a good spike in 2018. What was the opportunity and does it still exist?
Does the decline in historically stronger export markets that have weakened over the period represent an opportunity today, particularly in light of the challenges faced by other exporters to the Asia Pacific region in terms of supply chain disruption. These markets include: