FAMILY HAS ROOTS IN THE POTATO BUSINESS
Words by Helena O'Neill. This is article first appeared in NZ Grower magazine and is published here with permission.
Carrying on the family potato-growing business offers plenty of challenges and variety for South Otago's Sarah Mosley.
The 27-year-old swapped her hospitality career for horticulture over a year ago and is now the operations manager for Kowhai Bush Farms.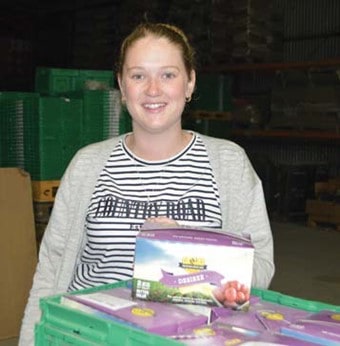 The business grows potatoes on 300ha across four blocks including three in South Otago – Stirling/Inch Clutha, Milton, Lovells Flat – and a new block at Edendale in Southland.
"We have two dairy farms as well so we rotate the crops and spuds."
Agria is their biggest crop, but they also grow Red Rascal, Red King, Nadine, Maris Anchor, Van Rosa, and Désirée potatoes.
Huge demand before the nationwide lockdown had staff working up to 70-hour weeks to keep up orders.
"We were doing shifts with people starting at midnight and then the next shift would come on, just to keep up with demand. They were going out the door as fast as we could get them in, it was just ridiculous. It meant that we ran out of stock at the end of the year.
"It was a very full-on lockdown period for us."
On top of the challenges provided by Covid-19, the weather also created issues for potato crops.
"We ran out of Agria in the first week of December. We had flooding in November 2019 and again in February 2020 which really hit Agria hard."
Kowhai Bush Farms builds on the work begun by ancestor William Alfred Mosley, who started potato farming five generations back in 1852.
"There's 17 of us plus Dad, and we have our base crew of full-timers. During digging we go up to about 25 and get casual staff to come in. We have the standard staffing issues, but it's not like we can't ever find people, we're quite lucky."
Sarah's dad Russell is stepping back and easing into retirement, while Sarah and her older brother Hamish plan to continue running the family operation into the future.
Sarah Mosley
Christchurch-based pilot Hamish is slowly integrating into the farm, taking on harvest management, while Sarah rejoined Kowhai Bush Farms in October 2019 after spending a decade working in hospitality.
Sarah studied hospitality management at the Queenstown Resort College. She then attended a hospitality school in Switzerland, with a placement working for the charitable trust United Through Sports in St Lucia in the Caribbean, where she spent four seasons.
She later finished her degree in business management at the International School of Business in Sydney before
returning to New Zealand to take up the role of operations manager at the Bay Plaza Hotel in Wellington.
Moving back to South Otago and taking up a full-time role in horticulture was more daunting than expected.
"I was probably a bit naive about what I knew about farming. I sort of always just assumed that because I grew up around it that you just kind of knew things, but I didn't. There was so much more to it than I had thought.
"I did a few months of getting back into the swing of things and then in the New Year started taking on more of a management role."
It's quite different, each day there's always something going on. I don't think there's a day when I don't learn something new as well
She is also studying for a Primary ITO level 4 qualification in level 4 post-harvest production.
"Over the past five years we've expanded quite a lot with the amount we're putting out. We got our Foodstuffs contract five or six years ago which meant we had to up our production and supply them every day."
They supply 10kg bags, 5kg bags, 2kg boxes, and 3kg value bags of potatoes for Foodstuffs.
"It's quite a big operation but it's quite a small operation. Sometimes you get the orders and you just can't put them out. There's no rhyme or reason to the order, one day this week it was 30 pallets and then nothing the next."
Sarah enjoys the variety the farm offers.
"It's quite different, each day there's always something going on. I don't think there's a day when I don't learn something new as well."
Working outside and not being stuck in an office is another bonus, she says.
"I like it when we do new season, because the packaging process and the digging process is different. So that's probably my favourite time of year, going out in the sunny weather and getting to dig as opposed to digging in the middle of winter.
"When it's winter and you're having to do it it's pretty miserable, but when you're out in the sun and they're nice potatoes to pick and the soil is nice, it's much better."