by Gemma Carroll, Communications & Engagement Officer, Potatoes New Zealand.
Featured image, Brad Whitfield, vege grower.
Organic farmers are a small but growing sector in Aotearoa and considering consumer trends and the recent law changes, it's time to hero the industry.
Demand for organics is increasing. The U.S. organics market is currently worth more than NZ$70 billion, and the EU organics market is worth around NZ$65b.
"We've seen a cumulative growth in the EU organics market by 460 per cent since 2000," Minister O'Connor recently said. "The number of organic producers in the Oceania region has almost tripled since 2006."
New Zealand organics saw the sector grow 30 per cent between 2015 and 2018 to be worth more than $600m, according to a report from Organics Aotearoa New Zealand.
https://www.beehive.govt.nz/release/new-legislation-boost-organics
It's a cool Autumn day when I head over to Clive, near Hastings, to meet with Hawkes Bay organic grower Brad Whitfield. Brad is a fourth generation grower who still shares some of the work with his 80 year old dad Dave.
Whitfield Organics has been providing certified organic produce to market for 20 years and the family has been growing food for 60 years.
The switch to organics was prompted both by health reasons for Dave and in an attempt to improve the output value of the then 100 hectare farm. Dave had developed liver issues in his late teens due to DDT applications in farming and was given only 3 years to live at the age of 19. He has regenerated his liver to 80% now and is as strong as ever.
Brad is the mainstay of the operation with help from his dad, wife, children, extended family and contractors at busy harvesting and grading times.
Whitfield Organics crop 50 hectares with 18 hectares in potatoes. The family owns 20 hectares and leases, a further 30 hectares. Other crops include pumpkin, maize, popping corn, carrots and hay for baleage.
Almost half of the potato crop goes to Pitango and Proper Crisps. Yields have been good this season with a hot Summer and there's about 600 T of spuds harvested all up each year.
Potato varieties grown are Agria, Moonlight, Nadine, Van Rose and Purple Heart.
Brad plants in early September and at the time of writing has mown his final crop and the tubers are in the ground waiting for harvest. Early planting alongside the Tukituki river avoids early season frosts. There are storage facilities on the farm including a small cool store which operates at 6.3 degrees Celsius and 78% humidity. Produce is no longer bagged in labelled sacks but instead sent to market in crates.
Buyers include; Chantal Organics, Fresh Direct, Ceres, Proper Crisps and Pitango.
Organic spud growing differs in nutrient application options, crop protection and storage regulation. Soil is tested every 2 years to qualify for certification.
Brad uses a variety of approved fertilisers; Bennett's Chicken Compost, Bio Rich Compost, Protamin and OrganiBOR. He also applies fish fertilizer and seaweed. The fish fertilizer having the added bonus of deterring psyllid due to it's smell.
There have been huge hurdles, especially in the early days, where Whitfield's lost 30 hectares of potatoes to blight, influenced by poor product advice at the time.
Psyllid has been an issue in the past, but Brad acknowledges a reduction in the pest since the neighbouring introduction of Tamarixia, which knocked the population on it's head in a year. The pest continues to be controlled on farm with Excel oil applied under the foliage leaves every 5-6 days, using the Jackto airbag spraying system. A Plant and Food Research trial in the past of 20 different products ranked the Excel oil as the 5th most effective on psyllid. Brad monitors psyllid using sticky traps.
Psyllid did mean that Whitfield's own seed became unviable and so they currently buy seed every year.
Tuber Moth has flourished this season with dry soils, but can be managed with watering, which Brad prefers to do at night using the boom.
A more surprising pest for me on my visit was the Pukeko, who dig up tubers, eat the flesh and young foliage and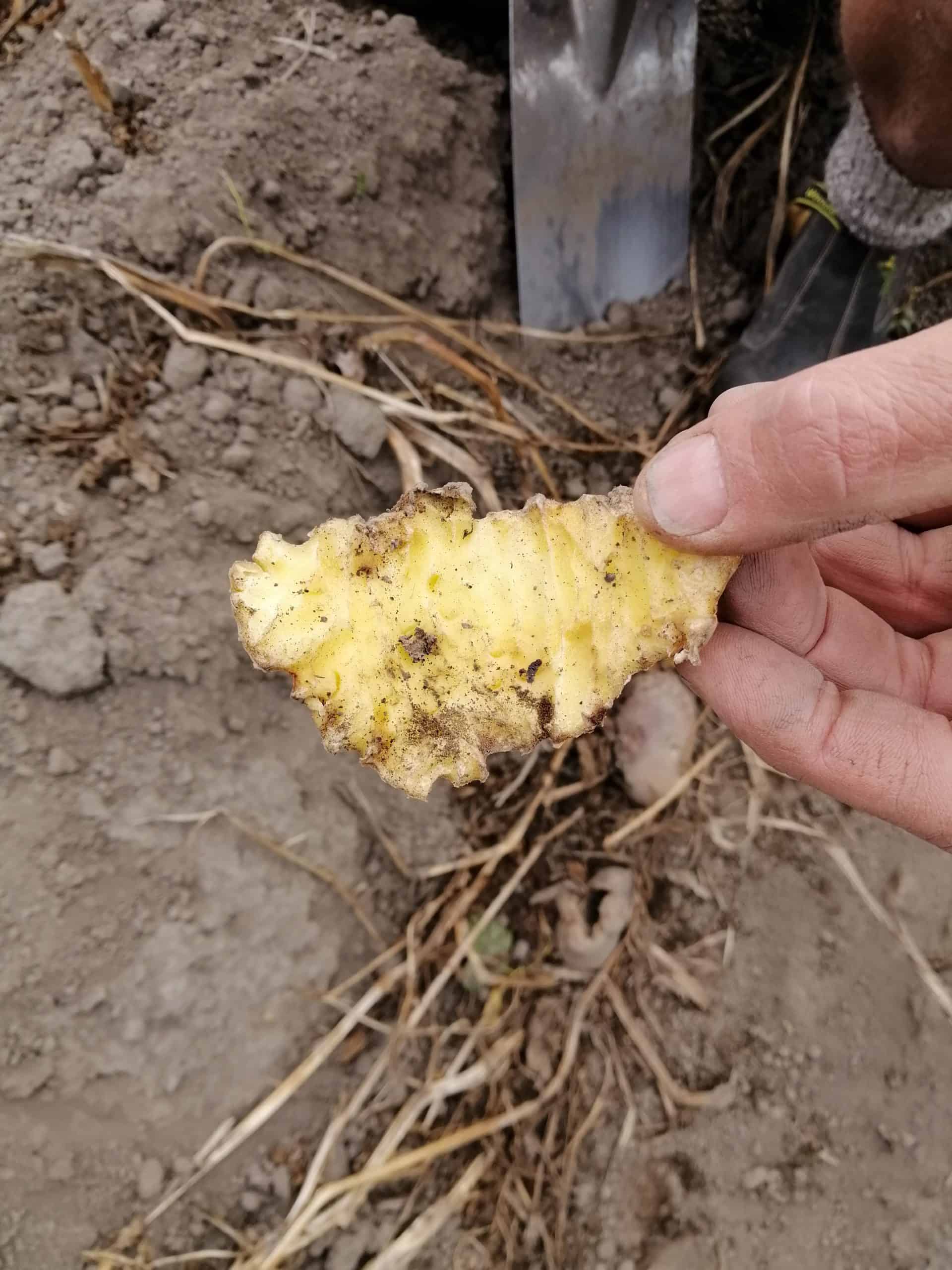 can also destroy maize crops given a chance.
Powdery scab can be managed by using mustard crops to naturally fumigate the soil. If planned crop rotation is also followed, good soil and healthy crops can be achieved.
Organic storage means no synthetic sprout inhibitor can be used, so 3 years ago the farm invested in a small, cool store which was filled with Agria and Moonlight when I visited. Otherwise crops are stored in the ground as the climate cools into Autumn.
Organic farming is as busy and time-consuming as any other method but may offer a certain kind of satisfaction for those wanting an added sense of kaitiakitanga or stewardship for the whenua and wai ora.
It also means there are less if any residues on food when it goes to market, something consumers are becoming increasingly aware of.
Perhaps those that have been in organics for decades, can now take a place in mainstream horticulture, as being an important contributor to NZ food health and environmental care.