Leading Australian vegetable machinery company Dobmac were amongst the various exhbitors at the New Zealand Soil Management Field Days in Pukekawa back in March. So let's find put a bit more about Dobmac Machinery.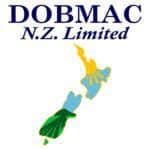 Philip & Judith Dobson began Dobson's Vegetable Machinery – Dobmac, in Tasmania back in 1983.  As a qualified boilermaker welder, Philip had grown up on a small farm near Ulverstone, Tasmania.  Looking for something to do whilst recovering from an accident, Philip was asked to modify some equipment for one of the local machinery distributors.  The work was a success and Philip found he enjoyed the challenge, from there the business grew into manufacturing unique agricultural machinery to suit the heavy soil conditions of the North-West Coast of Tasmania.
The first machines were a range of single and two row potato diggers which competed with imported European machines.  Modifications to imported potato harvesters and planters were also undertaken to better suit individual grower needs.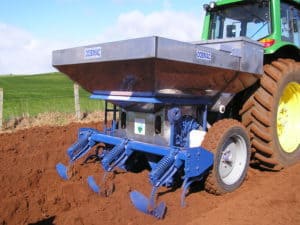 Dobmac's signature and versatile Potato Planter (pictured right), is still manufactured in Tasmania today and is well known, with sales now extending nationwide, New Zealand and into South Africa.
Dobmac has steadily grown over the years thanks to the support of local farmers who have assisted with research and development, field trials, and their invaluable feedback.
Dobmac not only supplies in-field vegetable equipment but also offers a turnkey solutions service for grading, processing and packaging needs.  From project conception, design, right through to an efficient, customised and integrated system.  Dobmac is honored to be the chosen Australian and NZ distributor for an extensive range of international vegetable planting, harvesting, processing and packaging manufacturing specialists.
Dobmac provides professional ongoing product support, after sales service, system upgrades and a comprehensive spare parts department capable of global distribution.  Dobmac stock a wide range of spare parts and accessories to suit most makes and models of modern and older vegetable machinery.
In 2003 Philip and Judith's son Mark joined the company, initially into technology, installing video monitoring systems to vegetable harvesters allowing operators greater visibility and control.  Mark has since become skilled in service & commissioning, sales and recently management.  Following in his father's footsteps by steering the company into new and exciting horizons.
After nearly 35 years, Dobmac is proud to still be a family owned and operated business with Mark Dobson as General Manager.  Currently employing over 15 staff in Tasmania and 3 in New Zealand, Dobmac is proud of its legacy of ingenious equipment and exemplary customer service.
Dobmac is widely recognised in the agricultural industry for being an innovative and active member in the region.  By supporting both local and international field days, industry boards, training and conferences, Dobmac keeps abreast of advancements in techniques and technology.
Over the decades Dobmac has adapted to changes in the global agricultural market and is excited to drive further efficiencies and productivity for the industry into the future.
Mark and the team will be attending the Potatoes NZ conference in Pukekohe on 26-27 July. If you are interested in meeting with them please contact Mark on +61 408 140 508 or zcqbofba@qboznp.pbz.nh.