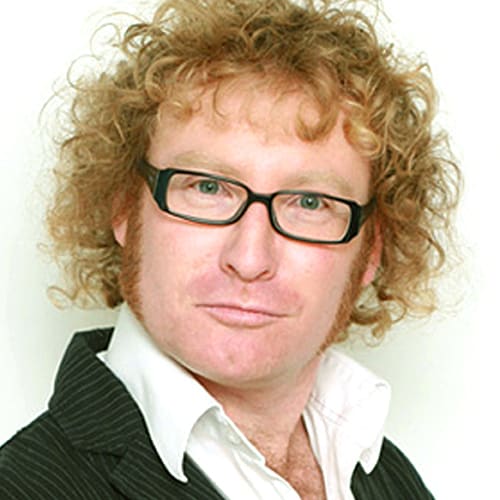 With a string of awards to his name, including the countries highest accolades for comedy, Te Radar is one of New Zealand's most recognised comedians and personalities. Under his trademark strawberry-blond mop lurks an astute mind that has created award-winning comedy shows, and TV documentaries for the past two decades.
Te Radar has a keen interest in the primary industries. 2017 sees him as the new Compere and Quizmaster for the FMG Young Farmer of the Year Regional and Grand finals, which has him once again travelling throughout the provinces.
A self-titled 'opinionist', Te Radar is a political and current affairs junkie. He's been a regular on National Radio's Nine to Noon for more than a decade, providing a satirical review of the week, and he won two Qantas Media awards for his columns in the New Zealand Herald.
No coward when it comes to confrontation, in 2000 Te Radar managed to convince the UN to fly him to East Timor at the height of the conflict to produce an award-winning documentary. Shortly after that he faced up to gun-toting soldiers in the Middle East, before interviewing the late Palestinian leader Yasser Arafat for a TV documentary and radio series.
Te Radar also represents local comedians on the New Zealand Comedy Trust board. He directs and acts in theatre, (including the lead role of Mr Twit in Auckland Theatre Company's production of the Roald Dahl classic The Twits ).
Te Radar spends significant time researching his audiences and their industry. He will bring humour and thought provoking questions to the Awards Dinner table.
So don't miss your opportunity to join Te Radar and fellow industry colleagues at the Potatoes NZ Conference on 26 July 2017.