An engaged group of students from Manukau Institute of Technology (MIT) are now fully equipped with deep-frying skills after recently completing the interactive Chip Group training session. On Tuesday 17 April the Chip Group Training and Education Manager – Kate Underwood, held our sixth training workshop at the Otara campus, as part of the Level 3 MIT Cookery program. With a few bags of frozen chips generously provided by Talley's Ltd the students put our Industry Standards to the test, cooking several baskets of healthier hot chips to enjoy for lunch.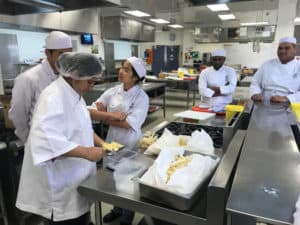 In a world where sugar, fat and dietary trends have a huge influence on what people consume. Fried food continues to be vilified in the media, which is why it's important we continue to educate people, through Chip Group training, that there are healthier ways of cooking chips. This understanding should help encourage people to continue eating New Zealand potato chips/fries.
Thanks to the support of Head Chef Lecturer, Craig Lucas – over the last few years we have been able to empower students to learn the art and technique of deep-frying that produces healthier hot chips. By completing this course at the early stages of their cullinary careers has enabled them to take these new skills with them into future kitchens and ultimately share and showcase the importance of serving quality, better tasting chips – that just so happened to be lower in fat!
One of the most important messages that we want to get across to students in these sessions is that their actions in the kitchen actually matter! Helping them to understand that the way in which they cook the chips (or any other deep fried food) has an immediate impact on the well-being of those consuming it, and ultimately on the health of New Zealander's.
Taking pride in the quality of the food you produce is a trait that many chefs or cooks possess – but many people who find themselves behind a deep-fryer may in fact not have had any chef/cooking experience at all! For some it can be easy to just throw a few frozen chips into damaged or old oil, wait for them to turn brown, pull them out and serve them up laden with salt, soggy, greasy and laden with extra unnecessary fat.
Our training provides basic insight, small changes and achievable tips needed to avoid producing chips that taste bad, absorb more fat and are greasier than they need to be. With an emphasis on the 'final stage of deep-frying' – we make it clear that it is at this point where the majority of the damage is done. To put it into context…fresh potatoes have around 0.1% fat, after they are processed by a chip manufacturer they have around 4 – 5% fat, but once they have been deep-fried, depending on the skill of the operator they can have anywhere from 7 – 22% fat. A huge range! So it is the final stage of frying that has the biggest impact on fat content.
Making it clear to these students that what they do is important, helps to inspire and encourage them to take ownership of what they are producing – which can only benefit everyone involved. Building strong partnerships with key tertiary institutes and organisations like MIT, who fully support the work we do has been pivotal to spreading our Chip Group message nationwide which simply put is…"Working to improve the nutrient profile of deep fried chips sold in New Zealand…" and we believe we are well on our way!
For more information about The Chip Group and Chip Group Training please visit www.thechipgroup.co.nz.
Kate Underwood
Training and Education Manager, The Chip Group