It was all about potatoes at the annual "Home Economics and Technology Teachers Association New Zealand (HETTANZ) Conference", held recently at Havelock North High School in the Hawkes Bay. President Sarah Wirth and the HETTANZ Committee put together and engaging programme for teachers from all over NZ as part of the Professional Learning Day. Fortunately for the spud lovers, potatoes were a firm feature over the weekend – with a field-trip visit to the Lawson family farm and a Potatoes New Zealand Masterclass showcasing various spud recipes.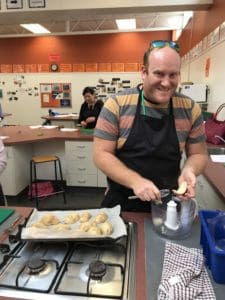 On the Friday afternoon, Scott Lawson, owner of True Earth Organics, hosted us at the Lawson farm and shared a fascinating history of the local land, which was once a river and now provides mineral-rich soils where he now grows organic potatoes, carrots and blueberries. It was a thought-provoking afternoon as we heard the highs, lows and challenges of growing organic potatoes. He discussed the nature of harvesting, processing and selling NZ's favourite vegetable and why Scott chooses to stamp his name on every single bag of potatoes he produces.
Providing a fascinating insight into the industry, HETTANZ members heard about the realities of packaging, shelf-life, storage and greening of potatoes right through to point of sale marketing and consumer messaging. Scott was extremely generous with his time and expertise and it was a huge highlight for those who attended.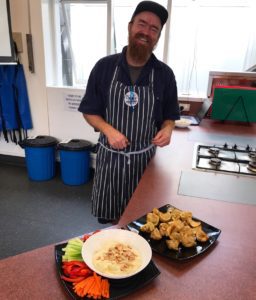 On day two, as part of the Hospitality program, a group of teachers joined the Potatoes New Zealand Masterclass hosted by local Chef Kerry McKay. He took the reigns demonstrating a Thai Potato and Chicken Green Curry – which has been featured in an upcoming resource developed by Nicola Potts (HETTANZ Kaiarahi). It is a great example of a one-pot-wonder meal, with its creamy coconut-milk base, finished with cashews, fresh herbs and chilli.
The teachers then became the students, whipping up batches of Potato Skins and Skordalia –  a garlic potato dip topped with toasted almonds and olive oil, served alongside vege-sticks. A delicious and very topical recipe that tackles food waste, as it uses the whole potato and turns what many often consider 'waste' into crunchy golden brown 'skins'. Chef Kerry admitted he is an avid fan of spuds, serving his own 'House Caravan Fries' in his own local food truck – Vagabond Jacks.
Conference participants left the weekend inspired with new knowledge, professional insight and a trusty bag of True Earth Organic potatoes donated by Scott Lawson. As a platinum sponsor of the HETTANZ event, Potatoes New Zealand were thrilled to be able to support the crucial role teachers play in empowering children and educating future generations.
Kate Underwood
Potatoes New Zealand