The secrets of perfect gnocchi
Gnocchi is one of the world's great potato dishes. Little soft pillows of potato-based dough, cooked briefly and bathed in a sauce that enhances their earthy flavour.
Head chef at Pasta & Cuore in Auckland's my Eden, Gabriele Marangoni, says the secret to making gnocchi that's dream-like and not doughy is to use the right potatoes. Agria is his pick. Then mash when the potatoes are still hot, so they stay dry, and use as little flour as possible to form the dough. Then, don't work the dough too much.
"Gnocchi should take two minutes to cook", he says. "you put them in boiling water, and when they float, they're done. This you can only achieve if your potatoes are dry at the start".
His favourite way to eat gnocchi is with the simplest of sauces: tomato, basil and garlic, which he says lets the flavour of the potatoes shine through.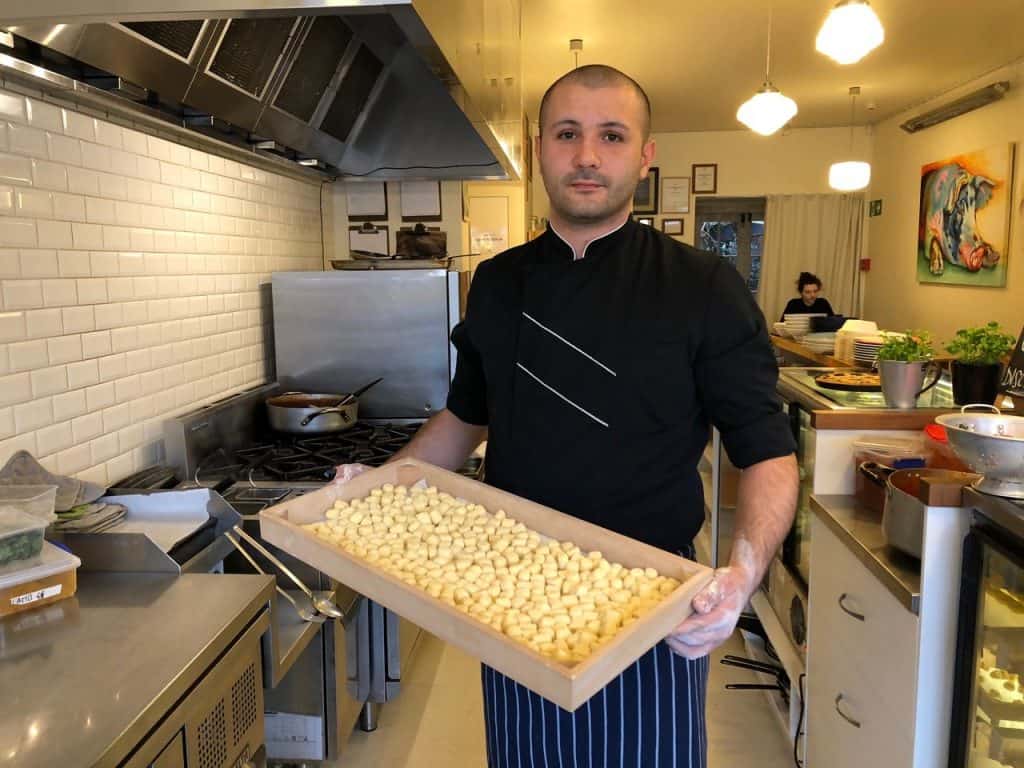 Here's a basic gnocchi recipe; you can play around with this to get your ideal texture; the keys are not too much kneading and not too much flour. I've roasted the potatoes to get a dry texture; you can steam or boil, too, just drain well before mashing.
Watch Gabriele in action …
Basic gnocchi
Serves 2-3
500g Agria potatoes
120g flour
1 egg yolk
1/2 teaspoon salt
grated Parmesan and black pepper, to garnish
Preheat oven to 200C. Pierce potatoes and place on a baking tray. Roast for about an hour, or until soft. Remove from oven and squeeze flesh into a bowl and mash, or use a potato ricer and stir with a fork. Season. Set aside to cool until you can handle it.
Bring a large pot of salted water to the boil. Add egg and salt to potatoes and mix (use your hands). Add half the flour and lightly mix, just until the mixture forms a dough you can handle. Add small amounts of extra flour at a time if you need to.
Place dough on a floured board and divide in two. Don't knead too much or the gnocchi will be heavy and gummy. Sprinkle with more flour if needed. Roll dough into long sausages. Cut each sausage into bite-sized pieces.
Optional step: roll gnocchi pieces over the tines of a fork to create ridges.
Add gnocchi pieces to boiling water. Cook until they float to the top of the pot; then remove with strainer or slotted spoon.
5 Serve gnocchi with sauce of your choice, sprinkled with black pepper and parmesan.