Words by Heather Woods, from the October issue of NZ Grower
In 1918, still a teenager, Quentin Wright wrote in his journal that they were planting potatoes when news came through that the First World War had ended, so they stopped for a celebratory drink. It was also a time when the great influenza pandemic rocked the world and 9,000 Kiwis lost their lives. Over a century later and under the watchful eyes of New Zealand's Southern Alps, four generations of the Wright family still live in Sheffield. Stuart and Simon Wright farm arable crops and specialise in lamb finishing on their 330ha, along with growing seed potatoes. And they too, are dealing with the fallout of the global pandemic.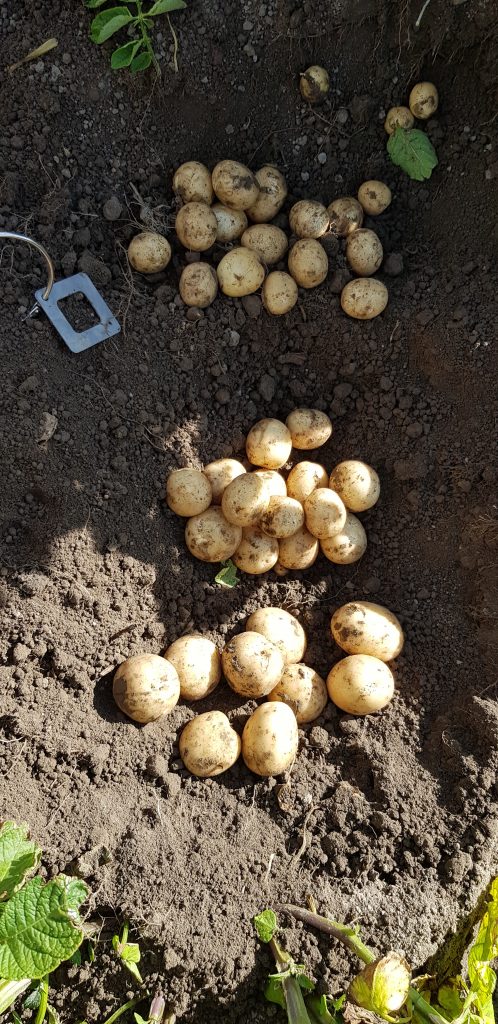 Potato basics
Potatoes are very pure plants. Sterile, true-to-type plants are tissue cultured (a slice of the tuber is bred up into many tubers as generation zero). They go into the field and are multiplied into generations one and two. Annat Farms plant crops from generations two and three seed in September and it's all systems go until November. Their export crop is harvested at the end of February, with the main seed crop (20–25ha) completed by April, at which point they're graded for size, any defects removed, and then stored. This extensive process means that changing varieties can't happen quickly.
Sitting at around 330 metres above sea level, Sheffield and nearby Methven have typically been great growing grounds because there's less risk (than those down-country) of blight affecting their potatoes (thanks to the regular, howling northwest winds). In fact they've only seen blight a couple of times (something Stuart puts down to less humidity), and they have less aphids than many potato plants.
And despite reliable rainfall helping with good yields, the Central Plains Water (CPW) irrigation scheme has provided a way to insure themselves against climate change – and the difference it has made has been phenomenal. Last year was their best harvest ever, and it's allowed them to branch out into garlic (by leasing land to Marlborough Garlic) and processed peas for Wattie's. This has effectively created an efficient, double use of their land.
The dynamic market of fresh potatoes, chips and crisps
Each potato market – seed, fresh and processed (fries and crisps) – requires different potatoes, which are grown, managed and marketed differently. For example, a good eating potato (for the fresh market) will not be grown for a fry potato. So in the seed industry, they're matching their production with the merchants who own each of the varieties. But potatoes are a fluctuating market and it is necessary to have a tight relationship with produce agencies who export. Annat Farms focus on the seed and fresh markets, and they supply a lot of the big growers with what they produce.
South Pacific exports and pandemic problems
In Fiji, it's common for potato to be the base ingredient for standard family meals. Rocket is a potato variety that suits that market, and is mostly headed to the supermarkets of Fiji to meet that demand. It's planted early and harvested in late February or early March so it's out the door before their main harvest is under way. But their recent focus has been the Covid-19 pandemic.
Imagine, that suddenly the entire New Zealand food service industry shuts down. You have a potato fry industry closely linked to that sector, that also suddenly stops. An entire year's worth of global production flowing to meet that demand grinds to a gut-wrenching halt. Where does the oversupply go? What made things worse for northern hemisphere growers is that the product being sold was last year's harvest, and their next harvest was already in the ground with no way of reducing its size. It has meant that northern hemisphere growers with a surplus of produce have been looking to divert product wherever they can, including to New Zealand. It's put pressure on New Zealand because our biggest fry market is Australia, and they're now having the same issue. There's an oversupply of fresh product and product in storage, but at least here in the southern hemisphere the timing meant growers like Annat Farms have been able to make decisions before their next planting hits the ground.
Looking ahead with caution
Crops, potatoes, livestock, crops: it's a capital-intensive cycle for Annat Farms that simply won't stop; a juggling act that needs constant management. Despite being allowed to carry on business during lockdown, they feel that between now and Christmas the true position of horticulture as a whole will likely be shown. For that reason they're taking a precautionary approach to budgeting and contract commitments, and will need discipline, drive and enthusiasm to limit their exposure, Stuart says. Keeping a vigilant eye on the domestic and international markets (for what might be looming) will be important, but at the end of the day they're doing what they've always done, they just tweak things when needed.