To bring back a lost part of Nelson's history – or simply lobby for a day off – Nelson College hopes to put potatoes back on the menu as well as the calendar.
In reviving a petition started by former students in 2015, a group of Year 13 history students are cooking up a plan to reinstate Spud Monday as a public holiday in Nelson, more than 70 years after it was disestablished..
According to legend, the holiday commemorates the first Nelson settlers who became so close to starvation they were forced to dig up and eat the seed potatoes they had just planted. As part of the celebrations all shops and businesses closed.
The date also marked the start of the potato-planting season. However the holiday was abolished some time around World War II.
''This holiday would present a great opportunity to encourage Nelsonians to remember their heritage, gain interest in their local history and get out and about. It would also allow a public holiday to be held at a time of year when there are currently none,'' the petition reads.
Nelson College already holds Spud Monday commemorations of its own, with students participating in a historical scavenger hunt around the school or Nelson city.
A Mr Potato Head-inspired trophy is awarded to the team who collects the most information.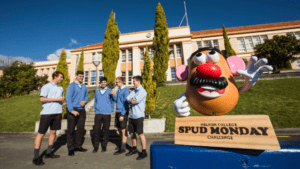 For petition co-organiser Josh Friend, whose older brother Mitchell was among the first batch of students to push the Spud Monday cause, the undertaking has helped him gain a better understanding of his local environment.In recent years, Nelson Provincial Museum has also held events to commemorate the occasion.
''I personally I had a distinct lack of knowledge about Nelson before Spud Monday – even about Nelson College – I hadn't really gone around the school but there's a whole lot of information up on the walls and it's been good to learn,'' he said.
Already nearing 1000 likes on their Facebook page and 280 signatures secured online, the boys have also raised interest during a school assembly.
''We brought in a bag of potatoes and threw them out into the audience, whoever caught one got a free bag of chips – there was one hurled back at us, but you have to expect that at a boys school,'' Friend said.
The boys were confident the interest would translate into signatures, before presenting the petition to council.
by Tim O'Connell – The Nelson Leader