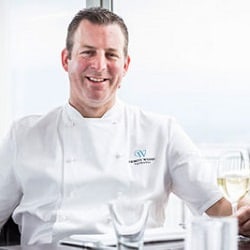 Serves 2
2 large general purpose potatoes, washed
1 onion, peeled and diced
1 tsp crushed garlic
2 tsp chopped parsley
1 tsp chopped thyme
vegetable oil
salt and black pepper
Gruyere cheese, grated (optional)
cream (optional)
Preheat oven to 175°C.
Place unpeeled potatoes in a pan of cold water, place on heat and bring to the boil. Cook for 20 minutes, remove and place in cold water to cool.
Sweat off the onion in a little oil. Add garlic and thyme and cook for a minute, then cool.
Peel potatoes and grate into a bowl. Add onion mixture and parsley, season and mix.
Heat a non stick frying pan. Add a little oil and spread mixture into frying pan.
Fry until golden, turn rosti over and cook until both sides are coloured.
Place on a baking sheet and bake in preheated oven for 6 minutes.
Cut into wedges and serve.
Optional: add Gruyere cheese and a little cream to the potato mix. Place in an oven proof frying pan (as it is difficult to turn over). Brown mixture on one side then bake for 10 minutes in preheated oven, until top is golden. Serve with a salad.