Guy Slater is on a newly formed sub-committee with NZ potato processors, to plan pandemic recovery for the sector of the potato industry which generates 55% of it's $1 billion value.
The sub-committee is currently addressing the potential import threat of 2.6 million tonne surplus of frozen fries from the European Union.
At 46 Guy has worked on his family farm since his teens, with time studying agriculture at tertiary level.
The third generation arable farmer, wife Jane and three children, specialize in growing tall fescue grass seed for lawns. His father Roger Slater & wife Jenny also live on the same block and Roger continues to work on the land and is a great mentor to Guy. Guy also counts his 2 sisters Carmen and Melissa, as fantastic moral support throughout the many ups and downs of life and farming.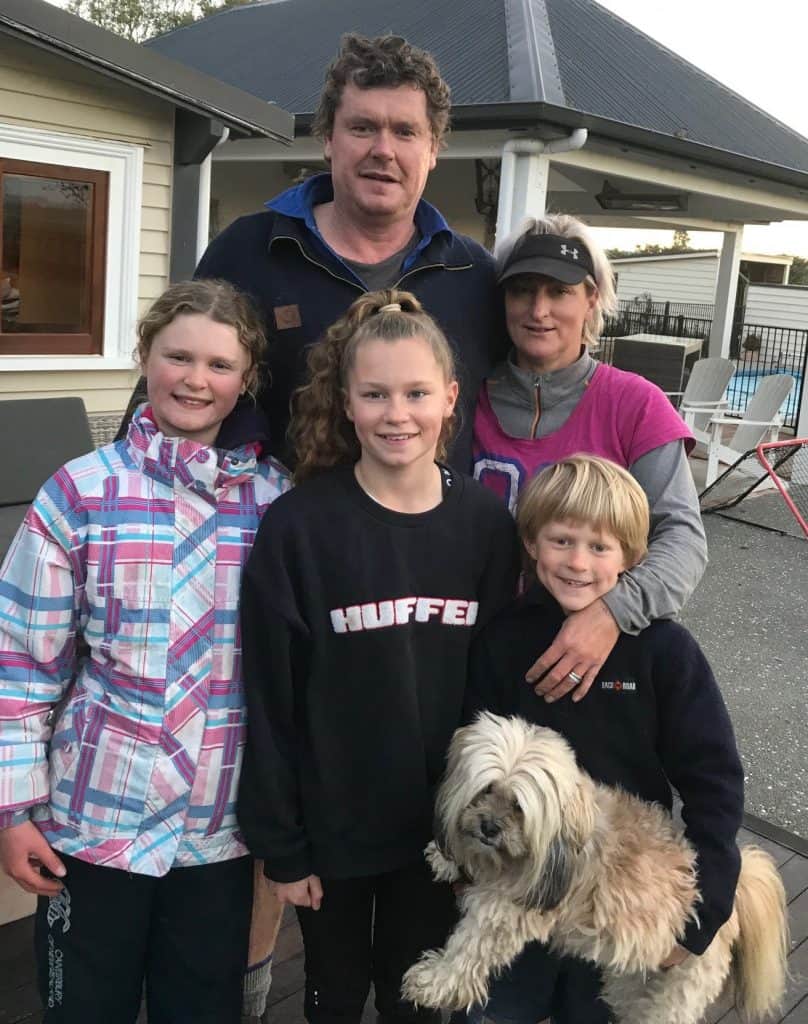 Guy first worked with potatoes for Talleys, finishing as field manager after 5 years. The position was really good grounding, building strong relationships with Talleys that hold to this day.
Understanding the team around this Canterbury Process grower is key. Guy is quick to point out he is not a single grower, but he enables a whole community to grow spuds.
He is a humble spud grower, yet he is proud of the community he supports. "It's hugely rewarding, if you can afford to be generous it pays to and if you can't, then you need to talk about it".
The sense of community around spuds, is part of what makes the company successful. Guy's venture has needed to get bigger to survive. The 3 original share farmers are still involved;
West Farms, McBain Farms and Pete Buttrick, they have all had tremendous growth in their own operations. They've been growing together for 15 years and have seen the expansion of the area planted to now include 25 other family farms, that involve 69 people.
"The farmers are effectively my business. We're close to planting as much seed now, as what we dug in our 1st season".
The team grows process varieties and supply NZ's main processors; Talleys, Mr Chips, & in partnership with Hamish & Bridget McFarlane, supply McCain in Timaru. Guy also grows Agria for Proper Crisps of Nelson.
Other varieties grown are; Innovator, Russet Burbank, Markies, Shepody, Russet Ranger, Royal Blazers and Magnums. They are one of the more significant growers in the country when it comes to area planted.
Guy's wife also operates her small, new potato business, called Plain Jane's which offers boxed, early Rockets and Swifts to local supermarkets at Christmas time.
This year potatoes were grown on leased and share-farmed land in 47 paddocks across the region.
Guy and Hamish are supported by operations manager, Simon Binnie, based in Ashburton, who oversees planting, watering & nutrition. Guy pays tribute to 12 years of service in some trying conditions, "I owe him a lot".
They employ Grant of Kinsman Contracting for digging crops and see them as an integral part of business. Seasonal teams are used, as well as the year round efforts of wife Jane and the other farmers owners who manage the watering.
It is clear any threat to one of the biggest process growers in NZ, will affect a great number of people and all in a concentrated area.
Guy says "we've had biosecurity challenges before, such as TPP and PMTV, which are ongoing and costly but they can be controlled. This current import challenge has me deeply worried, primarily for our partners and for our customers, the processors. Without them we are nothing. NZ growers may lose options if this threatened import happens".
When it comes to forward planning, like many other growers, Guy is looking at where the options are and feeling cautious.
"If the Europeans send these spuds down, they don't pose a quality threat to us that's for sure, because we've got a better product. We're in the best location, we're nimble and if they do arrive, then game on". However undermining a level playing field by subsidization is the concern.
"We've specialised in the process side of growing. We have very small margins now and really need bigger yield and lower costs, if there is a price threat we will run out of wriggle room."
Any threat to process potato prices, could be the end for growers who may already feel bombarded with compliance costs, as well as recent biosecurity incursion recovery.
Thankfully the potato is actually a good crop in terms of compliance, however councils are wanting costly proof of this.
"We monitor nutrient level and water usage weekly. We've become very sustainable and transparent. We're dealing with a product that has to be fit for purpose. Canterbury is becoming a significant exporter of French Fries".
On the plus side for now, process growing is contracted yearly and contracts have been honoured, which Guy is grateful for.
He is also grateful that as growers they could continue to harvest and supply throughout lockdown.
He says any surplus at the moment will be sitting with processors and is worrying for the whole industry. Though it has been a lower yielding year, it has alleviated any further over-supply.
"Never have I been so proud of the people in the urban centres, with their efforts during lockdown. I felt proud to be a New Zealander. Their efforts meant I carried on. I want to acknowledge the pressure all NZ'ers have been under. We all want everyone to access quality food at competitive prices and we as farmers want to provide that".
The responsiveness and agility of the sector meant NZ potato growers continued to supply NZ'ers with potatoes, crisps and fries during lockdown. Thankfully food security was safeguarded.
"I'm not a political commentator and I don't want to take my eye off the ball. I'm a business operating in extraordinary times. The government has made a decision to shut our borders to incoming people for a period. I am all for the free trade that our predecessors fought for, undoing this could be fatal, but a level playing field is essential. If the Europeans screw the scrum (and I'm pretty sure one country there has), I owe it to my business, my team and the wider potato industry to ask the ref to make a call. That's why we appreciate Potatoes NZ going to Wellington and asking the government for an inquiry. We want it addressed quickly, based on evidence and in this case the reply could be a game changer. We need to make sure all our good work isn't undone by inaction from government. I'd like the govt of the time to be bold".