Calls for action to stop low-priced frozen fry imports – an extract from WPM Issue 469.
The New Zealand potato industry has joined its Australian counterpart in requesting that its government impose short-term measures to prevent the import of discounted frozen potato products into the country.
Like other countries, New Zealand's fry and other product demand has been hit hard by the closure of restaurants and the tourist industry within the country. Around 85% of NZ's domestic demand for potatoes is supplied from the
country and it exports around 75 000 tonnes of frozen product a year worth NZ$100 million, mainly to Australia and Asian Pacific markets.
The industry body Potatoes NZ fears that the surplus of potatoes in Europe and North America will lead to shippers in those countries sending products to markets such as Australia at very low prices, compounding the domestic over-supply. In a statement it said:
"Globally, the disruption of supply chains, and particularly sales to hospitality, has led to the complete collapse of potato prices in major production centres, in particular the European Union. This will shortly lead to extraordinary price reductions in frozen potato chips [fries] from the EU. It's expected that a similar collapse will be seen in other parts of the northern hemisphere, in particular in North America. The EU currently has approximately 2.6 million tonnes surplus frozen fries.
"If urgent steps are not put in place to prevent it, New Zealand is likely to be swamped by imports of frozen potato chips at those extraordinary prices. That, together with the existing impact of the current pandemic will in turn cause the New Zealand potato-growing and potato-processing industries to suffer severe and prolonged damage.
This may lead to potato growers planting alternate crops and in turn lead to a shortage of New Zealand grown potatoes, which given New Zealand's reliance on potatoes as a source of food, will represent a serious risks to food security."
Potatoes NZ says that it is possible that 25% of restaurants will not re-open after all Covid-19 restrictions
are lifted and it is likely that processing plants will have to run at much lower capacity than normal, while contracts for next year's crop will also be smaller.
It said: "As we exit the nationwide New Zealand lockdown, the local market for frozen potato chips will be extremely competitive, even without the added pressure of below-cost imports landing here."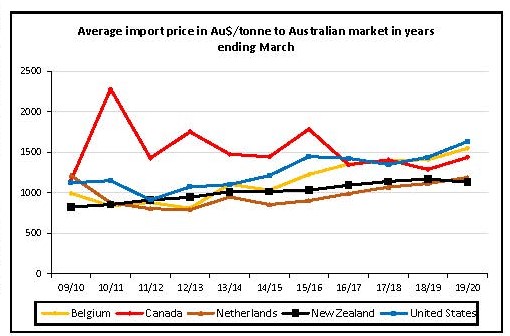 In recent years the price of New Zealand and Dutch exports to the Australian market have been similar, with Belgian, Canadian and US prices considerably higher.
To view the latest PNZ export statistics click here. The latest PNZ Export Report has us sitting in a similar position to previous years.