Over 150 conference delegates and all 7 Regional Winners attended the Potatoes New Zealand Awards Dinner, in Pukekohe on 26 July 2017, where the Best Chip Shop Competition awards were presented.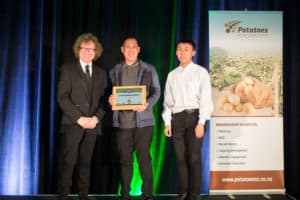 After fat sampling and 2 rounds of mystery shopping… the prestigious title of Grand National Winner went to So FineSeafoods in Lower Hutt, Wellington. It's pleasing to note that So Fine Seafoods were a regional finalist in 2013, 2012, 2011 and 2009!
The mystery shopper had this to say about So Fine Seafoods… "The store was well lit and welcoming. I was asked for my order immediately by a well-groomed team member wearing branded clothing. The food grade (A) was on display and clearly visible. The team member cooked the chips, shook and banged the basket before they asked if I wanted extra seasoning. The food was hot, fresh and tasty. Easily the best chips I've ever had the pleasure of eating.".
Anthony Cho (Owner/Manager) of So Fine Seafoods said… "This was such a surprise. We are delighted to have won this amazing award. We place a big emphasis on our customer service and quality of our chips, fish and other foods served. We'd like to thank Potatoes New Zealand and the Chip Group for organising this competition. The Chip Group Training was very good for teaching us how to make healthier chips that still taste great."
Potatoes New Zealand Chief Executive Chris Claridge offered his congratulations to the finalists and winner… "Fish & Chips is a Kiwi tradition. New Zealanders love hot potato chips and there's all the more reason to love the healthier chips served by our regional winners. Congratulations to So Fine Seafoods they are renowned for producing great tasting, healthier chips"
The competition was open to any business or operator that served hot potato chips to the public. To enter they had to have completed and passed the Chip Group's Best Practice Frying training, then simply filled out on online registration form then…
1.      Entrants submitted a sample of their cooked hot potato chips to Hill Laboratories for scientific testing of the fat content percentage.
2.     Stores whose chips were 9% fat or less received Highly Commended Chips awards and became 'Regional Finalists'. Those whose chips were more than 9% fat were eliminated from the competition.
3.     All 51 Regional Finalists were then mystery shopped by Hoed Research. They mystery shopper assessed chip taste & quality, cooking process, salt options, customer service and store presentation.
4.     The highest scoring store in each region became the 'Regional Winner'.
5.     All 7 Regional Winners were then mystery shopped with the with the highest scoring store being crowned 'Regional Winner'.
The 7 regional winners were;
Northland & North Shore: Northcross Takeaways, Browns Bay
Auckland: Oceanz Seafood Botany, Auckland
Waikato/Bay of Plenty: Welcome Bay Takeaways, Tauranga
Central Regions: Okato Takeaways, New Plymouth
Greater Wellington: So Fine Seafoods, Lower Hutt
Lower South Island: The Naked Chip, Waimate
Upper South Island: Gourmet Seafoods Shirley, Christchurch
So what about the Bidfood People's Choice Best Chips Award?
The Bidfood People's Choice Best Chips Award (decided by public voting) went to Mr Chips, Masterton.
Mr Chips Masterton owners Steve & Monica Fair were understandably delighted with the news… "We and our staff are feeling very proud and elated to have been voted as having the best chips in New Zealand. We've been in business 6 years and have never needed to advertise. The best part is receiving daily praise from our customers who have stood behind us so we can receive this public recognition award."
"Bidfood are proud to support the re-emergence of the Best Chip competition; celebrating excellence in the art of 'chippery'. We see the people's choice award as an integral part, because we understand first-hand how nice it is to have accolades on the wall. People's Choice truly is the judgement of your customers, as such it is the defining call of success." – Dan Parsons, Head of Marketing, Bidfood Limited
For more information and photos please contact:
Chris Claridge
Chief Executive Officer
Potatoes New Zealand | The Chip Group
Please email Chris Claridge through our contact form
Phone: +64 21 577 387