Potatoes NZ were proud to introduce the inaugural 2017 Crisp Tasting Competition.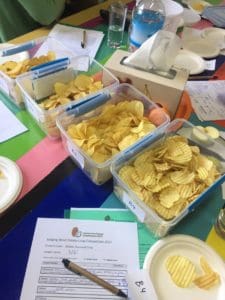 It was judged by a group of well-respected food professionals including Head Judge – Niki Bezzant (President of the Food Writers NZ), Kathy Paterson and Catherine Smith. Between them there was a great deal of experience in judging a range of food competitions such as the Cheese Awards, Sausage competition, Steak of origin and the Outstanding Food Producers Awards to name a few.
The competition was undertaken by blind-tasting across three competition sections – Kettle Fried Salted Crisp, Chicken-flavoured Crisp and Producers Choice. From this the highest scoring crisp was awarded the overall Supreme Winner award.
Each category was tasted separately and judged according to the following criteria – Appearance, Flavour, Texture and Freshness. The crisps were judged out of a possible twenty points and the overall winner was then decided based on score totals and at the judge's discretion.
Congratulations to the following winners;
Kettle Fried Salted Crisp = Bluebird Copper Kettle Sea Salt
Chicken Flavoured Crisp = Bluebird Foods Thinly Cut Chicken
Producers Choice* = Heartland Apple Cider Vinegar Premium Crafted Chips
Supreme Winner = Bluebird Copper Kettle Sea Salt
* Producers Choice award was open to any flavoured crisps at the choice of the producer.
The awards were presented at the Potatoes New Zealand Awards Dinner. Earlier that afternoon conference delegates were invited to taste the entrants in the Kettle Fried Salted Crisps category, then vote for their favourite.
The Industry Choice winner (by conference delegates vote) was… Bluebird Copper Kettle Sea Salt.