Otago Polytechnic Food Design Institute (FDI) students were challenged to make pop-up food truck style dishes using potatoes in an innovative manner. The students had to create innovative dishes that could sell at pop up food stands/events.
It is always great to experience what is being cooked and created in the wonderful world of potatoes in different kitchens and culinary training institutions throughout NZ.
Potatoes allow a truly versatile canvas with which to create a meal of endless possibilities and all of your potatoes dishes in this project have proven that fact.
We were totally blown away by the complexity, innovation and creativity of the dishes – but most importantly the taste. The students commitment to the competition was outstanding.
We look forward to hearing and seeing more of the spectacular dishes that you are involved in creating in your future careers. So, without further or do – here are the Award Winners…
Overall winner – Callum Frew – Potato Skin Stir Fry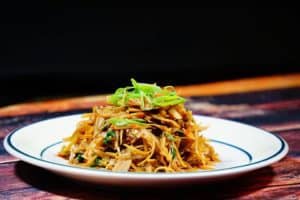 One of the most creative, innovative and unique potato dishes in the class. This dish strongly supported the no-waste message by utilising by-product within the current classroom. Judges described the dish as delicious balanced Asian-influenced stir-fry flavours that was both simple and complex.
This dish introduced a whole new possibility around texture using the potato skin – it was light yet still with the satiating benefit of the fibre from the potato. It was very well executed in terms of texture, seasoning and balanced flavour, receiving further praise for being an affordable recipe that would be easy to share and re-create. Congratulations Callum.
2nd Place – Adam Driver – Dinner from the Dirt – Potato on Fire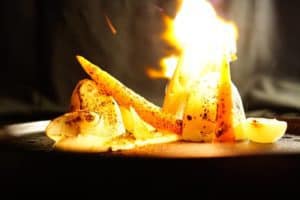 Dinner from the dirt, a.k.a. Potato on Fire was a real show stopper! The experience and theatre on the plate helped make the dish memorable, playful and entertaining – good use of incorporating both visual smoke and smokey flavour.
The dish clearly show-cased potatoes in more than on element. Adam was commended for a strong use of creativity and complexity incorporating a range of different techniques, particularly the clever use of serving potatoes two ways on the same dish.
Highly Commended – Alan Young – Potato Cake Bites
A playful and modernised take on an original potato croquette. These potato cake bites achieved all the elements of a tasty street style snack – easy to eat with your hands, salty, crispy and packed with flavour – which has you coming back for more, and works brilliantly served alongside a cold beverage.
Judges really enjoyed the International Southern Chinese influence – but also the fearless approach towards creating your own fusion and packing in a range of flavours. Visually they looked both intriguing and delicious with the flecks of seaweed and crunchy golden-brown edges.
Highly Commended – Sarah Sun – Potato Waffle with BBQ Pork
Great innovation to use mashed potatoes within waffle itself – it allowed a smooth moist texture, that didn't dry out yet still had a nice crisp outer edge.  It was stable to pick up and easy eat with your hands. Not too messy or saucy – which are both key elements for any hand-held street food snack.
The filling was well balanced – a good combination of fresh crunchy vegetables with the tender, sweet and sticky marinated BBQ pork.   A visually appealing and crowd-pleasing dish that all ages would enjoy.
Highly Commended – Sachlen Budha – Potato Noodles with Chicken
This ambitious dish featured noodles made from potatoes – an ambitious, creative and out-of-the-box use not usually associated with potatoes. The dish was reminiscent, both visually and texturally, of traditional noodles with a soft texture and great shape.
A well balanced Asian-inspired sauce with a good combination of potato noodles, tender chicken, fresh vegetables, punchy herbs and crunch from the peanuts.
Congratulations to the all students who entered and a massive thanks to the Food Design Institute team at Otago Polytechnic for organising this competition. We can't wait to see what potato dishes will be created next year.