Potatoes New Zealand is delighted to announce Ag World Support Systems (AWSS) as their first international Associate Member. Warren Henninger (Founder/Chairman) approached Potatoes New Zealand about becoming a Trade Member with a view to entering the New Zealand market.

So, let's find out about what Ag World Support Systems (AWSS) does… Ag World Support System's vision is to be the trusted leader in agricultural inspection services worldwide.  AWSS generates meaningful information customers use to optimize their operations and relationships, they listen and adapt to needs, and they encourage the pursuit of potential for themselves and those they serve.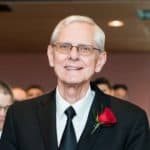 Warren Henninger was born and raised on a potato farm in Pennsylvania, USA and learned at an early age to work with potatoes.  As a young man, he continued his involvement with potatoes serving as president of both local and district Future Farmers of America chapters.  After earning an Agronomy degree from Penn State University, Warren planned on returning to the family farm.
His plans changed when Warren's father stated there was no future in potato farming in their area of Pennsylvania as the future of potato farming was out West. Warren followed his father's advice and continued his education by pursuing a Master's Degree in Agronomy at Oregon State University in Corvallis, Oregon.
Warren's goal of a career in the potato industry soon became a reality when he worked as a potato researcher and field manager for Simplot in Caldwell, Idaho and Hermiston, Oregon, USA.  He then moved to Moses Lake, Washington USA where he served as area field manager for Carnation, later to be Nestle; then Simplot.
Warren was content with his career path, but God had different plans and laid it upon Warren's heart to take a huge leap of faith and venture out on his own.  Having served the potato industry for many years, Warren saw a need for a third-party, private, inspection service which led him to establish Ag World Support Systems (AWSS) in June 1997 to provide unbiased and professional agricultural inspections, sampling and analysis.
Twenty years later, Warren's vision to service the potato processing plants in every area of North America is closer to becoming a reality.  AWSS services J.R. Simplot Company, McCain Foods, Lamb Weston, and Cavendish with US plants in Washington, Idaho, North Dakota, Wisconsin, and Maine as well as plants in Manitoba Canada, and China.  With the establishment of a strong base in the US and Canada, his vision is to continue to expand around the world wherever potatoes are being processed.
As Founder and Chairman of Ag World Support Systems, Warren is delighted to have his son, Bryan serve as President/CEO of the company.  It has been a joy for Warren to see the next generation willing and able to lead the organization.
Giving back to others by using the gifts God has given him is important to Warren.  He faithfully volunteers his time in leadership in his church community, serves on the Washington Potato Foundation Board which provides scholarships to students who enter ag-related fields of study and he sits on the Agriculture Board for Opportunity International, an organization seeking to provide jobs to underserved countries.  In addition, Warren serves on the Board of Directors for the Ronald McDonald House of the Inland Northwest which provides a home for families with children seeking hospital care in Spokane, Washington USA.
Warren will be attending the Potatoes New Zealand Conference on 26-27 July. If you are interested in meeting him please email juraavatre@Ntvafcrpgvbaf.pbz. To learn more about Warren and Ag World Support Systems go to AgInspections.com.
Potatoes New Zealand Trade and Associate membership is available to any organisation involved in potato processing or associated activities in New Zealand. For more information please visit the membership information page or email Chris Claridge through our contact form (Chief Executive – Potatoes NZ).