Potatoes New Zealand sponsored the Food Writers NZ 2017 Conference in Hawkes Bay on 3-5 November. The conference was attended by 50+ leading food writers and media. The following report outlines the benefits Potatoes NZ received as part of their $4,000 sponsorship investment.
Speaking Opportunity and Brand Presence at Conference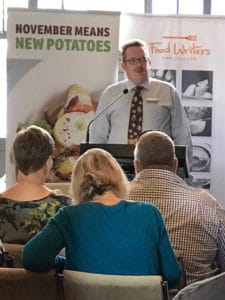 There was a strong brand presence with 6 Potatoes NZ banners in meeting room and around the venue, and Potatoes NZ pads, pens and Nutrition info sheets and booklet included in the delegate bags.
As part of the lunch sponsorship Potatoes NZ were given the opportunity to speak to the conference attendees about a range of current and topical issues facing Potatoes NZ.
Steve Sheppard spoke about the following;
the truth around the recent media Chipocalypse.
an overview of the November Means New Potatoes campaign, encouraging food writers to hero new season potatoes in the recipes, articles, blogs and columns.
promoting the four new recipe videos.
launch of the Potatoes NZ Instagram competition for November – which is running in parallel to a Food Writers NZ Instagram daily photo challenge.
debunking the myths about potato nutrition – showcased the Potato Nutrition Myths info sheet developed in conjunction with the Nutrition Foundation.

F.A.W.C Talks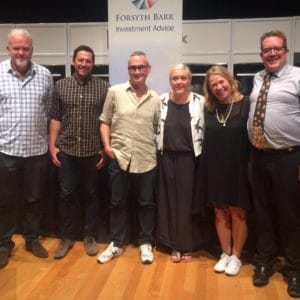 The Foodwriters Conference was organised in conjunction with F.A.W.C (Hawkes Bay's Food And Wine Celebration festival). Food Writers NZ President Niki Bezzant offered Steve the opportunity to speak at FAWC Talks which he nervously accepted, providing great exposure for Potatoes New Zealand to the Hawkes Bay's Foodie community and visitors to FAWC.
Over 100 keen foodies attended FAWC Talks to hear leading food industry personalities share a 7-minute off-the-cuff story about the love of _____.
Steve spoke about New Zealanders love of potatoes, receiving lots of praise for his passion and clear messaging that potatoes are the best vegetables and should be celebrated more.
The panel (pictured right) comprised a range of FAWC ambassadors and celebrity chef, including Ray McVinnie and Nici Wickes.
Potatoes NZ hid bags of potato crisps and fresh potatoes under chairs for attendees to take home and enjoy. One lucky person found a dirty potato under their chair, winning them a $50 Countdown voucher.
Potatoes here, potatoes there, potatoes everywhere!
Lunch – a celebration of potatoes gourmet lunch box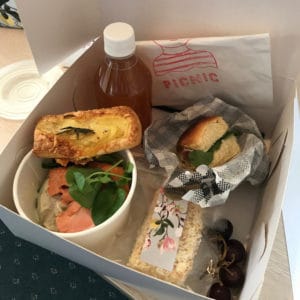 As part of the lunch sponsorship during the day of conference – F.G. Smith Eatery catered a Gourmet Potato Lunch Box which showcased potatoes three different ways including:
Summer salad of new potatoes, house smoked salmon, rocket, crème fraiche, garden herbs.
Picnic potato roll, whipped butter, watercress, prosciutto, oven dried tomato.
Mini galette of potato, rosemary, parmesan.
Deleagtes were sharing their 'lunch boxes' all over social media and as Lauraine Jacobs (ex President Foodwriters NZ and Food writer for NZ Listener) mentioned: "All I can see over my social feed is potato lunchboxes."
Potato Focaccia Bread Recipe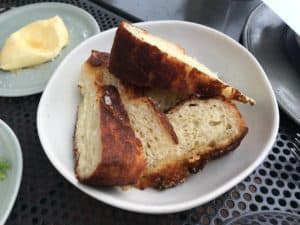 The opening event of the Foodwriters NZ Conference, was lunch at the Terrior restaurant at Craggy Range Winery.
Head Chef, Casey McDonald served a Potato Focaccia Bread as part of our first course, and it was a standout dish using locally grown Hawkes Bay Agria potatoes.
He very kindly offered us a copy of the recipe which we are able to share on social media and Potatoes NZ website.
Casey also agreed that we are to run a social media competition to see who makes the best-looking Potato Focaccia Bread – using his recipe.
Conference Breakfast – F.G. Smith Eatery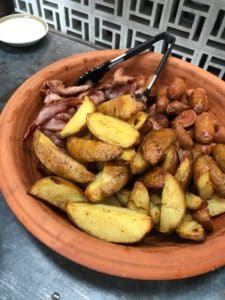 On the Saturday morning Foodwriters enjoyed a Buffet breakfast spread hosted by F.G. Smith Eatery in Ahuriri. On the menu were Country Fried Potatoes using local Hawkes Bay Agria potatoes. The potatoes were one of the favourite breakfast options, and were shared via social media from many Food Writers who attended the breakfast.
Potatoes at Malo
On the Sunday afternoon – as the final event for the Foodwriters NZ Conference, a table of 26 attendees went to lunch at Malo in Havelock North. (Recent winners of the Cuisine Magazine Good Food Awards 'Best New Regional Restaurant'). A stand-out potato dish was served including crunchy roasted Agria potatoes with aioli and tomato sauce.
Summary
Through this sponsorship of the Food Writers NZ Conference, Potatoes NZ have:
Kept potatoes at the forefront of people's minds
Spoken to a captive audience of leading food writers and media.
Networked with leading food writers and media.
Further strengthened out strategic partnership with Food Writers NZ.
Gained new potato recipes and image material.
Supported local Hawkes Bay chefs who are choosing to hero potatoes on their menus
Created new marketing opportunities – e.g. Competitions/Free social media content
Continued to promote the 'November Means New Potatoes' campaign.
We have been thrilled with the feedback and support towards Potatoes NZ from those who attended the conference. The aforementioned opportunities are demonstrate the benefits of supporting a group of established, renowned and well-known personalities within the food industry.
About Food Writers NZ?
A NZ organisation (est 1988) for all professional food communicators, offering professional development, networking, support and collaboration opportunities to anyone involved in the wonderful world of food. Currently there are 120+ members and 40+ corporate members.
Potatoes New Zealand is currently a Corporate Member. We pay a small fee each year to belong, and this allows the opportunity to have direct contact with all professional members as well as offer access to opportunities for further sponsorship of specific events such as Food Writers Conference.
The Food Writers Conference is held annually in Auckland – Late Oct/Early Nov. Bi-annually it is held somewhere else around NZ.