(extracted with permission from World Potato Markets Report 4/6/19)

Processed potato prices continue to fall against a global backdrop of rising prices, helping to build New Zealand's export performance. April's sales were 22.2% up on those of a year ago, at 6 842 tonnes, but this was still behind March's record-breaking figure of 7 399 tonnes. The average New Zealand export price is NZ$1 285/tonne (US$853/t; €754/t), which is NZ$73 (US$48; €43) lower than December's average of NZ$1 358/tonne (US$891/t; €797/t), and 10.5% down on prices a year ago. A weaker NZ$ is helping the situation – since the end of March it has fallen from 1NZ$= €0.61 to 1NZ$= €0.58.
Malaysia, Taiwan and Papua New Guinea continue to be interested buyers. Malaysia, with whom New Zealand has a free-trade agreement, took 433 tonnes in April, after buying 527 tonnes in March. Over the past 12-month period, sales to Malaysia have risen by 1 000%. The April price, at NZ1 273/tonne (US$836/t; €747/t), is 28.4% cheaper than that of a year ago. Since last November, Taiwan has been buying of 100 tonnes of fries each month.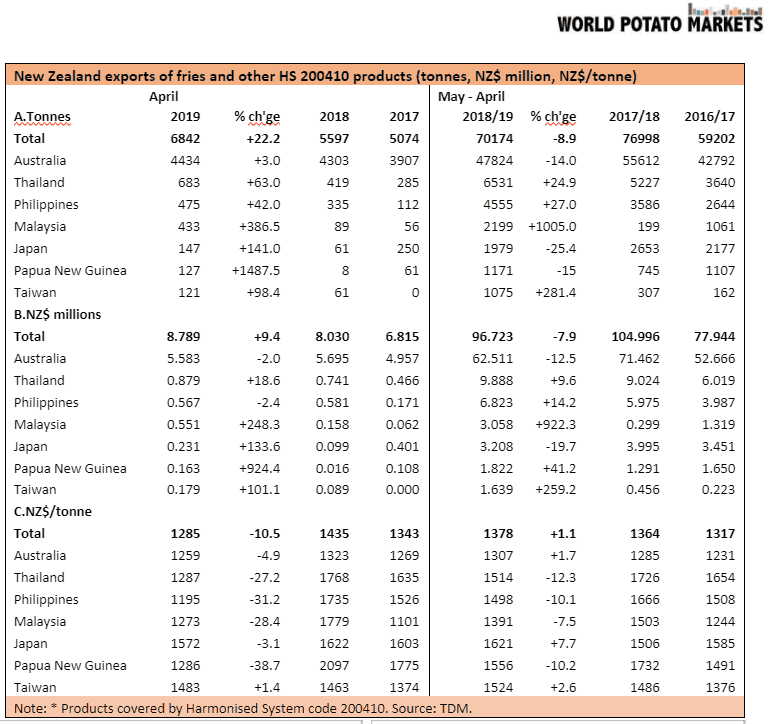 April's purchase of 121 tonnes means sales to Taiwan for the 12-month period have risen by 281.4%, even though prices to Taiwan are actually higher than they were a year ago. At NZ$1 483/tonne (US$973/t; €870/t), this is 1.4% up on April 2018 – they alone of New Zealand's main customers, are the only customer see a price increase.
Despite enjoying one of the lowest prices among New Zealand's customers, at NZ$1 195/tonne (US$784/t; €701/t), sales to the Philippines fell back from February and March's levels, with purchase of 475 tonnes in April. This was still 42% up on a year ago. When it comes to sentiment, the biggest boost to New Zealand's April exports was the sale of 151 tonnes to China. The deal was clinched at a price of NZ1 204/tonne (US$790/t; €707/t). Business with China has been lukewarm since the two mega deals at the beginning of 2018, when China bought over 5 000 tonnes of fries in January and February 2018. Since then, the most China has taken in a month is 60 tonnes.
Australia remains New Zealand's biggest market, accounting for sales of 4 434 tonnes in April 2019. This was 3% up on a year ago and set an average price of NZ$1 259/tonne (US$826/t; €739/t). Its share of New Zealand's fry trade, however, has fallen from 77% in April 2018 to 65% in April 2019.