A meeting of the New Zealand Seed Potato Certification Authority (NZSPCA) was held in Ashburton on 11 April.  Andy Innes stood down as Chair and Authority Member prior to the meeting.  The Authority and Potatoes New Zealand Inc. (PNZ) wish to thank Andy for his long service to both seed potato certification and the wider industry.  Richard Redfern has accepted nomination as chair of the Authority, and nominations are sought for another seed grower member of the Authority.
Some points arising from the meeting that will result in rule changes for next season are:
Remove the requirement for Powdery scab resistance testing for new varieties entering the scheme (Section 4.2.3).  Previously, new varieties entering the scheme have been required to be tested for resistance and given a resistance ranking.  The Authority believes this information is already available commercially, and resistance ranking is not a priority when selecting a variety to grow.  The Authority is proposing to remove this rule.
It is proposed that Section 4.2.2 is amended to make it clear that all varieties entering the scheme must clearly state the material's origin, provide a description of varietal characteristics and photos, and be entered using the commonly known variety name, Plant Variety Rights Act denomination (where that exists), or an acceptable breeder reference code.  All entered material must comply with the Plant Variety Rights Act.
It is proposed that a new class of certification be added as "Field Certified".  Field Certified would be applied to any certified seedline that is sold for processing without undergoing official tuber inspection.  The aim of offering this new class of certification is to improve traceability of seedlines.
The Authority meeting was followed by a grower meeting attended by 25 growers, scientists, inspectors, and other industry personnel.  The meeting discussed the proposed rule changes, and there was general agreement that the changes were acceptable.  We will continue to consult on these changes; please send any comments to the Secretary.  All rule changes will be finalised at the next Authority meeting (August 2018).
The grower meeting also heard excellent presentations from Plant & Food Research on two pieces of work initiated by the Authority.  John Fletcher gave an update on the virus survey undertaken this season. The report is still being finalised but John was able to confirm that most viruses had continued to remain at low levels, including PVY.  However there was a slight increase in Potato leafroll virus, the reasons for which are unclear.
It is hoped that the final report will provide some additional clarity on this.  PVS was detected in most crops (95%) and PVX was also high.  The symptoms of PVS and PVX are difficult to detect visually and growers should try to minimise mechanical transmission between generations and crops – tips on PVS hygiene.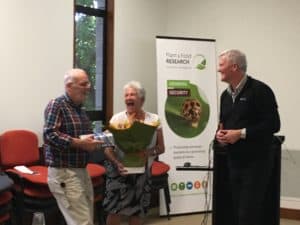 John Fletcher will be retiring from Plant & Food Research this month, after 47 years of service to agriculture.  The meeting took the opportunity to thank John and wish him well for his future.
John Fletcher and his wife Pam were presented with farewell gifts by Grant Morris from Plant & Food Research on Behalf of Potatoes New Zealand Inc
Rebekah Frampton presented the findings of a literature review on tuber transmission of Candidatus Liberibacter solanacearum.  The aim of the review was to answer two questions:
What is the relationship between foliar symptoms of Candidatus Liberibacter solanacearum (CLso) and tuber infection?
What happens to levels of CLso and Zebra Chip (ZC) symptoms in tubers while in storage?
The review is based on existing, published, research and pulls together the best understanding that we have at present – view full  report.
The next Authority meeting: August 2018, in Ashburton followed by a grower meeting. Please contact me on Frpergnel.FCPN@cbgngbrfam.pb.am with any feedback or comments.
Regards, Stephen Ogden
Secretary
New Zealand Seed Potato Certification Authority