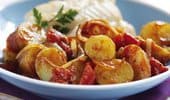 This can be a complete meal by itself, or served as an accompaniment to a meat dish.
Serves 4
500g small boiling or new potatoes, halved
1 Tbsp vegetable oil
1 large onion, peeled and sliced
1 Tbsp medium curry powder
1 x 400g can chopped tomatoes
2 Tbsp mango chutney
Place potatoes in a saucepan and cover with lightly salted cold water.
Bring to the boil and simmer for 15-20 minutes until tender. Drain.
Meanwhile, heat oil in a frying pan and fry onion for 3 minutes.
Add curry powder and fry for a further 2 minutes.
Stir in chopped tomatoes, mango chutney and potatoes and cook for 2-3 minutes.
Serve hot.
Nutrition Information Panel
Per Serving [4 Serves]
Energy
873 kJ
Protein
5.6g
Total fat
– saturated fat
4g
0.5g
Carbohydrates
– sugars
35g
15g
Fibre
6.4g
Gluten
g
Sodium
300g