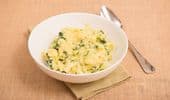 This traditional Irish dish is awesome. Try for brunch or lunch and dinner.
Serves 4
4 large mashing potatoes
pinch salt
80g butter
3 cups chopped cabbage and kale leaves
2 spring onions, chopped, optional
1 cup milk or cream
Place potatoes and salt in a large saucepan, cover with water, bring to the boil, reduce heat and simmer for about 20 minutes or until tender. Drain. Mash potatoes and keep warm.
Heat a frying pan and add butter. When melted, add cabbage, kale and spring onions, if using. Cook for 2-3 minutes until wilted.
Add the milk or cream then stir in the mashed potato and mix with the greens.
Serve hot.