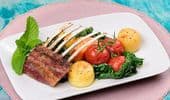 Fondant potatoes are a classic way of preparing potatoes.
Serves 4
800g boiling (waxy) potatoes
50g melted butter
salt and white pepper, to taste
chicken stock, hot
mint sprigs, for garnish
Preheat oven to 200°C.
Slice potatoes into blocks about 2½ cm thick.
Shape blocks into discs, approximately 5 cm in diameter and 2½ cm thick in the middle.
Place in a braising pan, brush with melted butter and sprinkle with salt and pepper.
Add stock to come half way up the potatoes.
Brush with melted butter and place in preheated oven. Cook for about 30 minutes or until the middle is soft when pierced with a knife. Brush with butter during cooking.
Serve with roast lamb rack, whole roast tomatoes, pumpkin and blanched silverbeet. Garnish with mint sprigs.