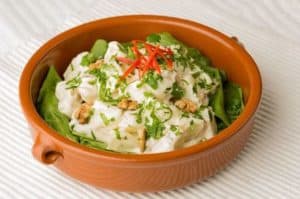 Delicious as is, or extend with sliced celery and carrots.
Serves 2-3
4 boiling or new potatoes, cooked, sliced into 1 cm dice
2 Tbsp vinaigrette
1 Tbsp chopped parsley
½ cup lite mayonnaise
1-2 handfuls salad leaves
5-6 walnut halves or ¼-½ cup walnut pieces
¼ red capsicum, deseeded and finely sliced
chopped parsley for garnish
Place potatoes into a bowl. Toss with vinaigrette.
If still warm, allow potatoes to cool.
Add parsley and mayonnaise and lightly mix together.
Chill.
Place salad leaves in a serving dish, add potatoes, and garnish with walnuts, capsicum and parsley.
Nutrition Information Panel
Per Serving [3 Serves]
Energy
1503 kJ
Protein
7.4g
Total fat
– saturated fat
25.7g
2.9g
Carbohydrates
– sugars
24g
9.8g
Fibre
3.3g
Gluten
g
Sodium
397g