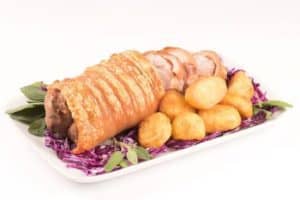 Roast pork and roast potatoes – what a delicious combination!
Serves 6-8
1kg boned and rolled loin of pork, well scored
2 Tbsp vegetable oil
2 Tbsp sea salt
6-8 medium roasting potatoes, roasted
1-2 cups finely sliced red cabbage
sprigs of sage, for garnish
To roast rolled pork loin
Preheat oven to 170-180°C.
Brush pork skin with oil and and rub salt into scored areas.
Place in the preheated oven and cook for 45-60 minutes, or until the juices run clear.
Turn up the oven to grill.
Grill pork loin until the pork skin crackles and bubbles.
Remove from the oven, cover and rest in a warm place for 10 minutes before carving. This allows the meat to firm, the juices to settle and makes carving easier. Carve roast across the grain with a sharp knife to ensure maximum tenderness.
Serve with roast potatoes on a bed or red cabbage.
To roast potatoes:
Preheat oven to 200°C.
Choose a baking dish that is large enough to spread the potatoes out in a single layer. Spray with vegetable oil and place in oven to heat. Remove from oven, add potatoes and spray lightly with oil.
Roast in preheated oven for 35-45 minutes, or until golden, crisp and tender when pierced with a skewer or knife. Turn several times during cooking. Remove from oven and serve.