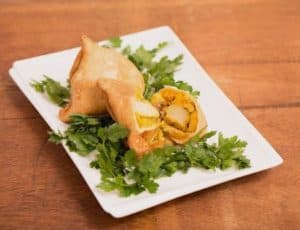 Make large for dinner, small for lunch and mini for snacks.
500g mashing potatoes, peeled and chopped
50 ml canola oil
1 tsp cumin seeds
1 tsp ground turmeric
1 red chilli, deseeded and finely chopped
1 clove garlic, peeled and finely chopped
pinch salt
1 cup cooked peas
samosa dough or filo pastry
Cook the potatoes until soft, then mash.
Heat the oil and add the cumin, turmeric, chilli, garlic and salt and cook for 2-3 minutes.
Add the peas and potatoes and mix well.
Divide the dough (or cut the pastry) into portions as per the size of the samosas required.
Roll each portion of dough into a round shape. Cut into 2 semi-circles.
Brush water on the straight edge of a semi-circle. Hold the semi-circle, and fold the straight edge bringing together the wet edges. Press the wet edges to seal making a triangular pocket.
Fill with the potato mixture then wet with water and seal the open edge.
Repeat with the rest of the potato mixture and dough.
Deep fry in oil until golden brown and serve.
Alternatively, place a sheet of filo pastry on a board, spray lightly with oil, then top with another sheet of pastry. Repeat with another 1-2 sheets of pastry. Cut into semi-circles, and follow the instructions above.