by Gemma Carroll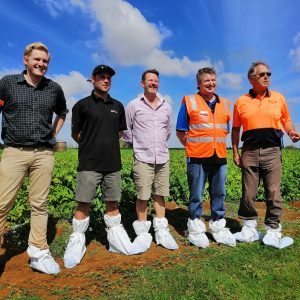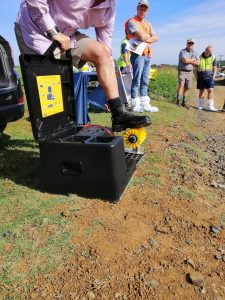 The most recent biosecurity incursion has been a timely reminder of the importance of on farm biosecurity. On farm best practice involves steps or processes that are a part of everyday activity. These sensible precautions should not just be employed in response to a new pest or disease, the ambulance at the bottom of the cliff is often too late. 
In the words of Rusty from www.cleanboots.co.nz "Biosecurity is everyday". 
 PNZ are working on an A3 poster for distribution to stakeholders, based on the following points. Just as you brush your teeth morning and night, the following advice should only confirm what you already do each day on your farm. 
When e

ntering a 

p

roperty 

ensure that you/others:


e.g. growers, workers, sales representatives, consultants, crop monitors, inspectors, field surveyors, other visitors

 

Limit entry points into a property.

 

Park in designated parking areas (using signage will help).

 

Wash down vehicles if necessary.

 

For anyone coming from another property, wash hands and clean footwear (or provide booties and overalls to visitors).


I

f footwear needs cleaning, ensure soil is removed before using disinfectant.  (Disinfectant won't work if dirt present).

 

For anyone who has recently been overseas in rural areas, ensure footwear and clothing worn overseas is clean.  

 

Ask visitors to stay on tracks.

 

If transporting visitors, use own vehicles where possible.

 

If you will not be present when visitors are going to your property – discuss with them prior to their visit, 


the hygiene/biosecurity practices you would like them to adhere to.

 

When b

ringing organic material onto your property (including seed)
e.g. seeds, organic 

fertiliser

, compost

 

Know your s

ource 

of 

certified seed.

 

Talk with suppliers about biosecurity, hygiene, testing and record keeping

. 

 

Ask for copies of tests/certificates/declarations if available.

 

Inspect on arrival visible pests and diseases.

 

Store away from production areas if possible.

 

Traceability – record where from and where used.  Have the ability to trace backwards and forwards.

 

 

When making n

ew plantings

 

Regularly check for anything out of the ordinary.

E

quipment 


e.g. new, second hand, borrowed or lent equipment

Clean storage/harvest bins, containers (free of debris, waste and dirt) and storage areas.

 

When moving between properties wash down vehicles and other machinery.

 

Consider establishing a wash facility with a hard stand or sump.

 

Do not let water "run off" into production areas.

 

Regularly check areas around wash down facility, for new pests or weeds.

 

Keep an up to date cleaning record.

 

Clean vehicles from top down.

 

For maximum protection consider using a broad-spectrum disinfectant after washing.

 

Contractors


What 

do 

you want your contractor to do?  

 

What hygiene/biosecurity practices do you want them to implement?

 

How can you check contractors are doing it?

 

Contractors following good biosecurity practices may be slower – but what level of risk are you prepared to accept?

 

Can you include biosecurity in contractual arrangements with contractors?

 

Know your normal

 

Monitor your crop.

 

Know your normal – what pests and diseases might you expect to see.

 

Know your exotic pests – know what might be of concern.

 

Keep the PNZ Pests and Diseases Handbook as reference.

 

Train staff to look out for unusual pests and signs/symptoms.

 

If any pest of concern is found "Snap it, Catch it, Report it" – Call MPI on 

0800 80 99 66.