Potatoes are undoubtedly NZ's favourite and most versatile vegetable. Whether baked, mashed, boiled or served as those addictive and delicious deep fried chips. Across a range of cuisines, dining styles, households and events they are almost, always present. But despite the trendy ancient grains trying to knock the humble carbohydrate king off its perch – it is clear that there is still a whole lot of love for the spudtacular potato.
As part of our Social Media campaign, Potatoes New Zealand are encouraging consumers, growers, suppliers and chefs to share their potato creations across a range of platforms including Facebook, Instagram and Twitter. We are using our pages as a way to share these wonderful ways in which potatoes are being presented throughout the country. As well as running a range of hashtags that help celebrate and shine the light on the versatile spud. #Fryday is an obvious example – where we showcase chips on a Friday and our new tag #Spudlove acts as an appreciation to all potato-related posts.
By simply scrolling through our Instagram feed (@potatoes_nz) its hard to ignore the vibrant, creative and enticing ways that potatoes are being showcased within NZ and abroad. The possibilities are endless and this collage of imagery is an exciting and inspirational way to remind consumers of that. With almost 500 followers and growing – Potatoes NZ are excited to increase our following and continuing to share the #spudlove far and wide.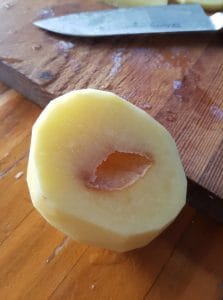 Interestingly some of the most popular posts have been those that connect consumers to how and where our potatoes are being grown. For example images of muddy paddocks, dirt-covered spuds and working dogs all have the power to tell the story of how a potato makes it from the paddock to our plates.
During last year's successful 'November Means New Potatoes' celebration event we were further convinced of just how passionate people and consumers can be about potatoes  - not just growers or those directly involved in our industry. As a collective – we owe it to them to share the history, the stories, the places and the faces of those involved in the entire potato food chain.
Among some of our social media pages we have noticed interesting questions, discussion and debate about recipes, diseases and growing methods related to potatoes. Questions such as 'What makes the best mash?', 'What variety makes the best roasties?' and 'Why does my potato look like this?'. The latter question was referring to an image of an agria potato with hollow heart.
Comments and answers were covered with reference to weather, irrigation and growing conditions at different times of the year and it was fascinating to see people's responses. Well-known Food Writer Lauraine Jacobs (NZ Listener contributor) commented on the post: "We must treasure our vegetable growers and have understanding for the difficulties they face." This avenue to educate, share and inspire is a crucial part of what we do at Potatoes New Zealand and we are committed to sharing your stories, dispelling myths and ultimately sharing the #spudlove.
Kate Underwood
Potatoes New Zealand