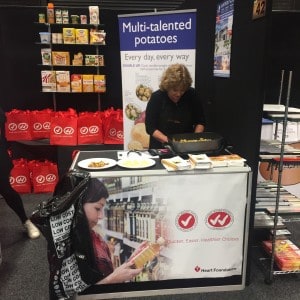 The Great NZ Food Show was held at the Mystery Creek Events Centre in Hamilton from Friday 22nd – Sunday 24th May 2015. Potatoes NZ was asked by the Heart Foundation Tick Team to join their stand on the Saturday. While outside the day was windy, grey and pouring with rain. Inside the show was a hive of activity (along with being warm and dry!) with some visitors making the trip all the way from Gisborne!
This vibrant culinary event was in its second year of showcasing some of the best in food, wine and new innovative products. Their were celebrity chefs, tastings, gadgets and plenty of artisan, gluten free and organic products. So plenty to satisfy everyone in the mighty Waikato!
Potatoes NZ showcased the multi-talented potato. There were Potato Skins and Potato Dip to try (which was a massive hit) along with Lemon Pepper Baked Potatoes. Hundreds of recipes were handed out to Potato Dip converts along with the new nutrition resource.
It was a great day in the Waikato and we look forward to the next food show in Auckland.