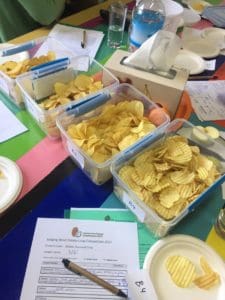 Did you know that Kiwis spend $150 million a year on potato crisps? That's a lot of crunching and rustling… and a lot of potatoes.
Last month was quite potato-centric for me, including as it did my role as head judge in the inaugural Best Crisp Competition, and my attendance and speaking at the Potatoes NZ conference in Pukekohe.
As a not-so-secret lover of potato crisps, it did feel like a bit of a career peak to be asked to judge these awards. Of all the food judging I've done – and there has been a wide range – this was the most enjoyable. This could have been because of the relatively small number of entries. With most food competitions, the first few tastes, no matter what the food is, are fantastic; the appeal tends to fade when you get to sample 23. In this case, almost every bite was a pleasure, and there was no spitting (yes, just like with wine tasting) required.
Despite the modest volume of entries, it was a very high standard of product. And it was fascinating to discover the quite significant differences between the crisps, even when they are nominally the same flavour. In the end I was really pleased that the judges' choice for overall winner – the Copper Kettle Ready Salted – was the same as the People's Choice. The people, in this case, being the attendees at the Potatoes NZ conference. I reckon these people – industry insiders and growers – are in a position to judge a good crisp.
As a crisp eater (not often, I hasten to add; as with most people, I find it impossible to eat just a few chips, so don't buy them unless I know I'm going to be sharing the bag) I am a traditionalist. I really prefer the plain, salted crisp above all others. But according to Chris Claridge, Potatoes NZ CEO, in a story published last year, the growth in crisp sales in NZ is being driven by the fancy flavours. There's no shortage of these; in the Awards we tasted sweet chilli relish flavoured crisps, along with apple cider vinegar and other exotic varieties. I've tasted lamb and mint sauce crisps (not a fan) and smoked paprika crisps (these are moreish). Recently I spotted imported crisps in Bloody Mary flavour. Apparently, like craft beer, the crisp market is becoming more sophisticated.
With my health hat on, I need to point out that potato crisps are never going to be health food. Claims of less fat, healthy oil, etc, are technically accurate, but they don't render the crisps any less fattening, sadly. A potato crisp is a perfect food storm of carbs, salt and fat, which is obviously what makes it so irresistible.
So the best we can do, if we are crisp lovers (and who isn't) is to practice moderation as much as possible. As I said, I regularly abstain from crisps, but when I buy them I never eat them straight from the bag. I put the serving I want to eat in a bowl, then close the bag and put it away. Then I sit down and savour those crunchy, crispy wafers, relishing the salt on my tongue and the crunch under my teeth. Mmm. I'm keen to try some of those winning crisps again soon. And I'm already looking forward to next year's Awards.
For the record here's the details of the winners of the Best Potato Crisp Competition…