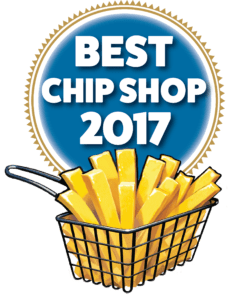 It is with great excitement that we announce the 7 Regional Winners for the Best Chip Shop Competition 2017…
Northland & North Shore: Northcross Takeaways, Browns Bay
Auckland: Oceanz Seafood Botany, Auckland
Waikato/Bay of Plenty: Welcome Bay Takeaways, Tauranga
Central Regions: Okato Takeaways, New Plymouth
Greater Wellington: So Fine Seafoods, Lower Hutt
Lower South Island: The Naked Chip, Waimate
Upper South Island: Gourmet Seafoods Shirley, Christchurch
These 7 regional Winners will now go on to compete for the prestigious supreme title of Grand National Winner 2017. All 7 stores will be revisited by a mystery shopper with everything from chip quality to salt options to service and store appearance being assessed.
From this mystery judging, a Grand National Winner will be decided and the award presented the at the Potatoes NZ Conference Awards Dinner on Wednesday 26th July.
As well as the kudos of being a Regional Winner, each of the 7 stores will receive 10 boxes of chips, a Best Chip Shop Competition Regional Winner pavement sign, aprons & caps, a Framed Certificate and $500 travel allowance to attend the Awards Dinner.
How was the competition judged?
All stores had to submit a sample of their cooked chips for fat testing. If the result was 9% fat content or less, they received a Highly Commended Chips Award and became 'Regional Finalist'.
The 51 Regional Finalists were mystery shopped by Hoed Research with the mystery shopper's score deciding the Regional winner.
The Regional Winners are now being mystery shopped (for a second time) to assess the overall winner.
So what about the Bidfood People's Choice Best Chips Competition Award?
The Bidfood People's Choice Best Chips Award is purely a public popularity contest – decided only by public voting. Congratulations Mr Chips Masterton for winning this award.
Stay tuned next week to find out who will take out the title of 2017 Best Chip Shop Competition Grand National Winner…