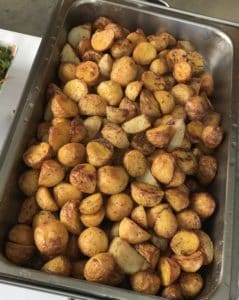 Potatoes are the perfect side for every meal, every day. They can be served boiled, mashed, roasted, baked or in a stew. Potatoes are great in salads, stuffed for a more substantial side and made into gnocchi, chips, wedges and hashbrowns/rostis.
Potatoes are easy to prepare and are very versatile. Leftover potatoes can easily be made into a frittata, make a welcome addition in a quiche or made into croquettes or colcannon/bubble & squeak or make them into Skordalia garlic potato dip – see the November issue for a recipe.
Potatoes are very cost effective too. Fresh potatoes have a comparatively lower per weight price than other carbs like kumara, quinoa and couscous. Best of all potatoes are incredibly filling so you don't have to serve so many per portion. And as mentioned above leftover cooked potatoes can be utilised in other dishes meaning minimal waste.
What's more kiwis love potatoes… Nikki Bezzant recently appeared on Jesse Mulligan's National Radio show to talk about her quest to make the perfect roast potatoes. This segment received unprecedented feedback proving people are passionate about their potatoes. These people are not avoiding carbs, and certainly not avoiding potatoes.
Potatoes are local! Provenance is becoming a major consideration, as conscious Kiwi consumers demand to know the origin of the food. People are choosing to eat locally sourced foods over imported foods which have a greater carbon footprint. Do not under estimate the growing influence of the conscious consumer.
Dinners are avoiding highly refined foods! Fresh potatoes are a natural product that is not refined, unlike highly processed pastas. Take pride in serving New Zealand grown fresh potatoes that will appeal to conscious consumers and support local growers.
Everyone loves a fresh potato with a dollop of butter on tops and some fresh herbs. Simple, easy and cost effective. So now is the time to embrace potatoes – the perfect side for every meal, every day.