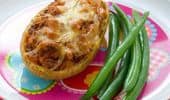 Try this tasty potato and lamb or beef dish and always choose Quality Mark beef and lamb.
Thanks very much to Beef Lamb NZ for sharing this recipe.
Serves 4-6
500g lean Quality Mark beef or lamb mince
1 Tbsp oil
1 onion, peeled and chopped
2 Tbsp tomato purée
400g can tomatoes in juice
1 tsp mixed herbs or 1 Tbsp chopped fresh herbs (optional)
4-6 medium sized baking potatoes
½ cup cheese, grated
Heat the oil in a frying pan, and cook the onion gently for 5-6 minutes, until tender.
Add the mince, breaking up with the back of a spoon to form small pieces until cooked thoroughly and no longer pink.
Stir in tomato purée, canned tomatoes and herbs.
Bring to the boil and simmer gently for 30 minutes until reduced and thick, but still moist.
Bake or microwave 4-6 medium sized potatoes as below.
Combine the mince mixture with the flesh of each potato, reserving the cooked skin.
Fill the potato shells with the mince and potato mixture.
Sprinkle with grated cheese and serve with your favourite vegetables.
Oven baked potatoes:
Preheat oven to 220°C. Prick each potato several times with a fork.
Rub potatoes with a little oil and place on a baking tray in the middle of the oven. Bake in preheated oven for 45-60 minutes, or until potatoes are tender. Remove potatoes from the oven and follow instructions as above.
Microwaved baked potatoes:
Prick potatoes with a fork to pierce the skin. Place in microwave, and cook on high power for about 4-5 minutes for each potato; two potatoes will take 8-10 minutes. The time depends on the power of the microwave and the size of the potatoes. Carefully remove potatoes from the microwave and follow instructions as above.