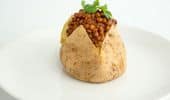 A tasty, quick and easy snack or lunch – or serve with a green salad for a meal.
Serves 6
6 large baking potatoes, washed
2 Tbsp vegetable oil
2 cloves garlic, peeled and crushed
1 Tbsp curry powder
½ chilli, deseeded and finely chopped
1 x 400g can red lentils
2 tomatoes, peeled and chopped
coriander sprigs to garnish
Preheat oven to 220°C.
Prick each potato several times with a fork.
Rub potatoes with a little of the oil and place on a baking tray in the middle of the oven. Bake in preheated oven for 45-60 minutes, or until potatoes are tender. Remove from oven.
Meanwhile, heat remaining oil in a pan over medium heat.
Stir in garlic, curry powder and chilli and stir over heat for 1 minute.
Add lentils, tomatoes and ½ cup water. Stir well and cook for 5-10 minutes or until thick.
To serve, cut a cross into potato top and with both hands, press near the base of the potato to open the top.
Spoon lentil mixture into centre. Garnish with coriander and serve.
Nutrition Information Panel
Per Serving [ Serves]
Energy
967 kJ
Protein
7.3g
Total fat
– saturated fat
7g
1.0g
Carbohydrates
– sugars
38g
2g
Fibre
7g
Gluten
0g
Sodium
224g
Gluten Free