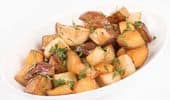 Try this delicious mixture of favourite winter vegetables.
Serves 3-4
2-3 cups prepared vegetables, leaving skin on where possible:
e.g. swede, kumara, potato, kohlrabi, celeriac
¼ cup fruit syrup, e.g. apple
¼ cup vegetable oil
1-2 Tbsp chopped coriander
Preheat oven to 200°C.
Place vegetables, fruit syrup and oil in a large baking dish.
Bake in preheated oven for 30-40 minutes.
Remove from oven, garnish with coriander and serve.