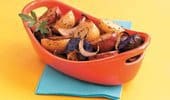 Easy to make and delicious. Choose a mixture of red and yellow potatoes.
Serves 4
500g small roasting potatoes, sliced in half
2 onions, peeled and sliced into wedges
1 Tbsp vegetable oil
¼ cup balsamic vinegar
pinch salt
pinch ground thyme
¼ tsp freshly ground black pepper
Preheat oven to 180°C
In large bowl, mix potatoes and onions with oil, vinegar, salt, thyme and pepper until coated. Place in a baking dish.
Roast in preheated oven for 30 minutes, stirring occasionally.
Increase oven temperature to 200°C and cook for a further 15 minutes, stirring occasionally, until potatoes are tender, brown and glazed.
Nutrition Information Panel
Per Serving [4 Serves]
Energy
633 kJ
Protein
3.8g
Total fat
– saturated fat
3.8g
0.4g
Carbohydrates
– sugars
24.3g
5g
Fibre
3.3g
Gluten
g
Sodium
41g