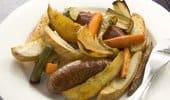 Veg up up sausages and chips – as a variation, instead of potato chips, slice a variety of vegetables and roast them with the sausages.
Serves 4-5
6 medium baking potatoes, washed and sliced into wedges or chunks
1 onion, peeled and sliced into wedges
2 kumara, sliced into wedges
2 carrots or parsnips, sliced lengthways
2 courgettes, sliced lengthways
1 green capsicum, deseeded and sliced into wedges
6 lean sausages (500g) halved by twisting to form 12 short sausages (gluten free)
2 Tbsp vegetable oil
1 Tbsp chopped fresh rosemary leaves or ½ tsp Tuscan seasoning (optional)
Preheat oven to 200°C.
Place all ingredients, except oil and rosemary, in a large baking dish.
Drizzle over oil and toss gently to lightly coat the vegetables. Add rosemary or seasoning and toss again.
Place in preheated oven and bake uncovered for 45-55 minutes or until vegetables are cooked. Turn once during cooking.
Nutrition Information Panel
Per Serving [5 Serves]
Energy
1996 kJ
Protein
17.9g
Total fat
– saturated fat
22.9g
9g
Carbohydrates
– sugars
47g
7g
Fibre
8.5g
Gluten
0g
Sodium
779g
Gluten Free