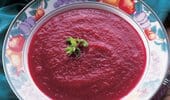 This soup has a wonderful colour and flavour and is very easy to make. Make extra to freeze.
Serves 4-6
4 small beetroot, peeled and finely chopped
2 onions, peeled and finely chopped
1 carrot, roughly chopped
1 boiling potato, roughly chopped
1 apple, roughly chopped
1 cup finely sliced red or green cabbage
2 Tbsp white vinegar or lemon juice
pinch salt
2 Tbsp brown sugar
¼ tsp ground cloves
3 cups water
Place all ingredients in a large pan, simmer for 30 minutes or until vegetables are soft.
Purée, adding extra water if necessary to achieve desired consistency.
Reheat to steaming hot.
Serve garnished with parsley or chives.
Variation: Add a tablespoon of lite sour cream or plain yoghurt.
Nutrition Information Panel
Per Serving [6 Serves]
Energy
402 kJ
Protein
2.6g
Total fat
– saturated fat
0.4g
0.06g
Carbohydrates
– sugars
18.3g
14g
Fibre
5g
Gluten
0g
Sodium
109g
Gluten Free