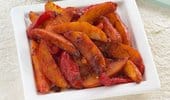 These are so delicious they are sure to become a favourite for the whole family.
Serves 4
4-6 baking potatoes, washed and sliced into wedges
1 red capsicum, deseeded and sliced into thick wedges
2 cloves garlic, peeled and finely chopped
2 Tbsp finely chopped mint
½ cup tomato paste (gluten free)
2 Tbsp brown sugar
2 Tbsp vinegar
½ cup water
2 Tbsp vegetable oil
Preheat oven to 200°C.
Place potatoes and capsicums in a roasting pan.
Mil other ingredients together in a bowl.
Add to potatoes and capsicums, and toss to coat.
Bake in preheated oven for 25-35 minutes or until potatoes are tender.
Turn several times during cooking.
If necessary add a little extra water at the end of cooking to ensure the sauce coats the wedges.
Nutrition Information Panel
Per Serving [4 Serves]
Energy
1178 kJ
Protein
6.9g
Total fat
– saturated fat
7.2g
0.8g
Carbohydrates
– sugars
45g
10g
Fibre
5.7g
Gluten
0g
Sodium
228g
Gluten Free