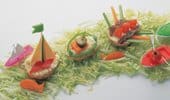 Try different ideas. See also Spuds on the Move and Potatosaurus for more great ideas with baked potatoes.
Makes 4 boats
2 medium baking potatoes, washed
½ cup grated cheddar cheese
¼ cup milk
slices of cheese for sails
vegetables as suggested
Selection of vegetables grated or sticks of carrot, bean sprouts, cucumber slices or strips, beetroot slices, tomato wedges, halved cherry tomatoes, sliced lettuce, slices of radish, slices of green, red or orange capsicums, cooked sweet corn kernels, slices of cooked mushrooms
Either bake potatoes or microwave potatoes until soft as below.
When cool enough to handle, cut potatoes in half and scoop out the flesh.
Mix potato flesh, cheese and milk together until smooth.
Pile back into potato skin and smooth the top.
Decorate with vegetables to make a yacht, rowing boat or steamer as illustrated.
To make oven baked potatoes
Preheat oven to 220°C.
Prick each potato several times with a fork.
Rub potatoes with a little oil and place on a baking tray in the middle of the oven. Bake in preheated oven for 45-60 minutes, or until potatoes are tender when tested with the point of a knife.
Remove potatoes from the oven and use as above.
To make microwaved baked potatoes
Prick potatoes with a fork to pierce the skin.
Place in microwave, and cook on high power for about 4-5 minutes for each potato; two potatoes will take 8-10 minutes. The time depends on the power of the microwave and the size of the potatoes.
Carefully remove potatoes from the microwave and follow instructions as above.
Nutrition Information Panel
Per Serving [4 Serves]
Energy
957 kJ
Protein
12g
Total fat
– saturated fat
13g
8g
Carbohydrates
– sugars
16g
2.5g
Fibre
2.7g
Gluten
0g
Sodium
281g
Gluten Free